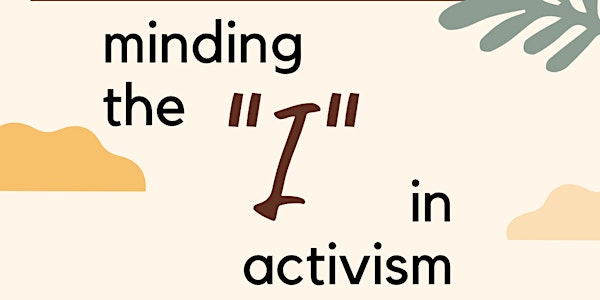 Minding the "I" in Activism
Join us for: Minding the "I" in Activism: Peacebuilding from within for more inclusive, tolerant and sustainable communities.
About this event
This free lunchtime webinar will explore ways of maintaining our wellbeing while tackling issues of injustice in our communities.
We have three wonderful speakers:
Suzanne Kyle
Suzanne Kyle is Senior Community Education Officer with AONTAS, the National Adult Learning Organisation. She is responsible for ensuring a coordinated approach to community education work within AONTAS, supporting the delivery of community education initiatives, and overseeing the development of the Community Education Network (CEN). Suzanne has worked in the community and voluntary sector for over twenty years, in the areas of community development and adult education. Her Masters research examined the impact on community education practitioners of policy and structural changes to the adult education landscape in Ireland. She is currently undertaking a PhD within the Department of Adult and Community Education in Maynooth University, and is a recipient of the John and Pat Hume Doctoral Scholarship. Her research interests include the role of community education in the disruption of far right discourses through the promotion of equality and social solidarity.
Eileen Morrow
Eileen Morrow is Senior Policy & Advocacy Officer with the International Council of Voluntary Agencies (ICVA) and leading on COVID-19 coordination and humanitarian advocacy. She was heavily engaged in leading joint advocacy for the protection of civilians and humanitarian response in Ethiopia following the outbreak of the conflict in the north. She led Concern Worldwide's humanitarian and development operations as Country Director in Ethiopia and Nepal and has lived and worked in Kenya, India, Uganda, Tanzania and Haiti. She is now back home in Dublin with her husband and two children, and still strongly believes in the power of collective action and empathy in resolving the world's deepest injustices.
Karen Kelly
Karen is a Holistic Health Practitioner with over 20 years experience, an advocate of wellness, mentally, emotionally and physically for all. Through a conscious connection to our bodies, our community and our natural environment, we can create a more peaceful, inclusive and sustainable way of life for all living beings and our living planet. Wellness is not just about what we do, but our approach, our attitude and how we experience our lives. So much of wellness in today's western world is commercialised and individualistic, Karen's belief is in a more natural, wild and authentic way of caring for ourselves and our living world.
Please note that by registering for this event you are consenting to being signed up to Development Perspective's mailing list of which you are free to opt out of at anytime.