Description
"Study nature, love nature, stay close to nature. It will never fail you." Frank Lloyd Wright
The two days of MINDSCAPE, one at UL and another in Clarisford Park, explore the fusion of mind and landscape, and how our emotions change spaces to places. Our unique relationship to nature, our connectivity to forests, rivers, lakes, parks, trees and waterscapes will be discussed in terms of cutting-edge reserach and innovative practice. We address the opportunities that interacting with nature can have for health, well-being and increased environmental awareness, with lessons for policy-makers, practitioners and those engaged in the promotion of outdoor activity.
What is the theme?

The theme of this second MINDSCAPE summit is 'Woodlands for health to tranquility on the Blueway' and it aims to share and discuss practice and innovation in this space with particular experiences drawn from case studies, world leading research and personal narratives.
Who Should Go?
All are welcome to attend, and MINDSCAPE will be of particular interest to:
1. Those promoting sport, recreation and physical activity in the outdoor industry,
2. Development officers in sport NGB's, Local sport partnerships and local authorities,
3. Students in sport, physical activity, environmental science and outdoor education,
4. Environmental activists and advocates for a green economy,
5. Landscape architects, planners in local authorities
6. Those promoting our natural and built heritage,
7. Researchers in sport, physical activity, environmental science and outdoor education.
Who is Speaking?
Confirmed Leaders, Innovators, Filmmakers, Athletes and Activists include:
Rosie Foley, channel swimmer, former international rugby player, physical education teacher and leader in Women's sport.
Linda Bhreathnach is an award-winning Irish writer, director, and actress studying psychology in UL. From Ros Muc, Conamara in the west of Ireland, her film native explores our passion for blue spaces.

Elisa O'Donovan, founder of the Swimable Limerick scheme, local activist and Social Democrats candidate in the local elections.
Keith Wood, entrepreneur and innovator, former captain of Ireland and the Lions who was IRB World Player of the Year, who spearheaded the development of Clarisford Park.
Ruth Minogue, environmental consultant, host of Landscape Alliance Ireland conference in Killaloe, in 2018.
Prof. David Sheffield Health, health psychologist, and a world leader in our understanding of nature connectedness and a key founder of the Nature Connectedness Research group in the University of Derby.

Dr Giovanna Caloguiri, environmental psychologist, expert on green exercise, VR and technological nature.
Dr Una May, Sport Ireland, advocate for Women's sport, ethics in sport, and participation in outdoor recreation.
Nancy O'Keefe, conservation architectural historian, who has experience in the restoration of our canal heritage.
Mike McClure, Sport Northern Ireland, member of European Network of Outdoor Sports and investigator in EU funded project Benefits of Outdoor Sports for Society.
Professor Juergen Beckmann of the Technical University of Munich, a leading authority on mental health and well-being among sporting and athletic samples.
Brid O'Connell, social innovator and founder of Shannon Dragons and promotor of kayaking for health and recovery.
Dr Mathew White, environmental psychologist, expert in well-being assessment University of Exeter and work package lead in H2020 project Bluehealth2020.
Donal Boland, leader of the Inland Waterways tranquility on the water project in collaboration with Waterways Ireland.
Dr Eibhlis O'Connor, Registered Human Nutritionist, Principal Investigator and Nutrition Lecturer at the University of Limerick with expertise on promoting sustainable nutrition.
Prof. Jo Barton, University of Essex, founder of the Green exercise research group.

Dr Christopher R. Madan, neuroscientist from the University of Nottingham, expert in the measurement
Prof. Alan Donnelly, leader of the Physical Activity for Health research group at UL, an expet in sedentary behaivour and measurement of physical activity.
And another 10 stellar speakers to be announced shortly.
What is the format of the Event?
The two-day conference will also include a series of presentations from practice based experience in engaging with citizen led science and communities followed by a panel and audience led discussion on addressing benefits, challenges and needs for such engagement. A range of fora will be employed to maximise the interactions including our outstanding keynotes, interactive sessions, Table-Top discussions, Walk n'Talks, and Elevator Pitches from different stakeholders.
Provisional Schedule Day 1 Pavilion, University of Limerick.
0930 Registration
1000 Welcome by Giles Warrington Head of Dept. of PE and Sport Sciences
1015 Two Keynote Talks: Professor David Sheffield and Dr Giovanna Caloguiri
1115 Coffee/Tea Break
1130 Video Diaries of Case Studies on Green Exercise and Blue Mind
1145 Two Keynote Talks: Professor Jo Barton and Dr Una May
1245 Panel Discussion: Keynotes with Athlete Leaders and Innovators
1315 Lunch
1400 Walk and Talk with Social Innovators
1430 Two Keynote Talks: Professor Alan Donnelly and Dr Aoife Donnelly
1530 Panel Discussion: Keynotes and innovators
1615 Coffee/Tea Break
1630 Research Briefing from EPA and EU funded projects
1700 Wall of Knowledge: What you need to know
Provisional Schedule Day 1 Clarisford Park
0900 Welcome and Registration
0915 Opening Address by Eanna Rowe Waterways Ireland
0930 Two Keynote Talks on Nature and Well-Being: Professor Juergen Beckmann and Dr Mathew White
1100 Coffee/Tea Break
1115 Film and Nature: Going Native
1130 Two Keynote Talks: Dr Mike Rogerson and Dr Aoife Donnelly
1230 Panel Discussion: Keynotes with Social innovators, leaders and Innovators
1300 Lunch
1400 Walk n'Talk with our Research Leaders (with groups of 6-9 participants)
1430 Table Top: Innovation Pitches
1500 Keynotes
1645 Wall of Knowledge: Take Home Messages
1700 Close of Proceedings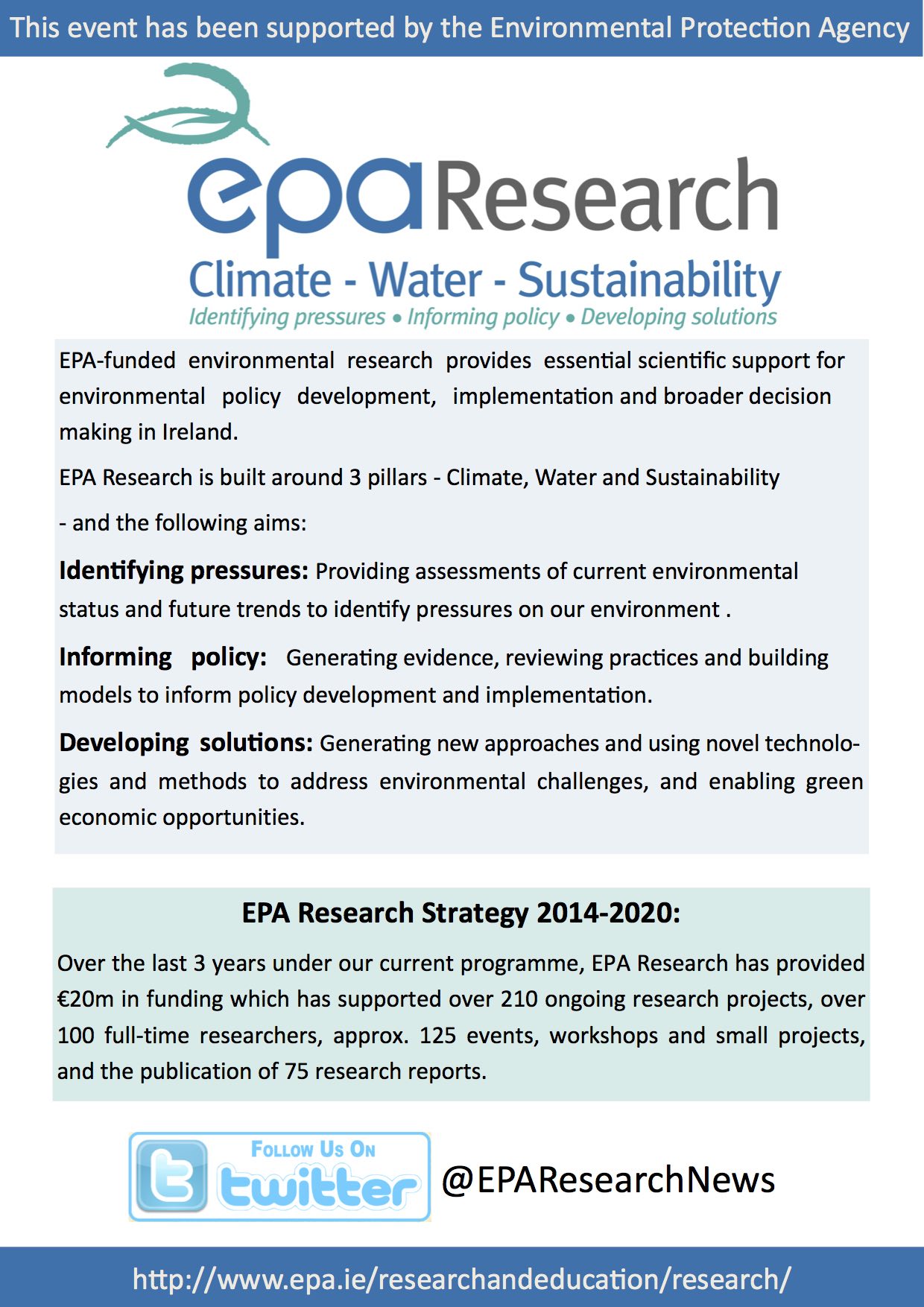 Partners
Waterways Ireland manages, maintains, develops and promotes over 1000km inland navigable waterways principally for recreational purposes. The waterways under the remit of the body are the Barrow Navigation, the Erne System, the Grand Canal, the Lower Bann, the Royal Canal, the Shannon-Erne Waterway and the Shannon Navigation. The Lough Derg Blueway is made up of a series of multi activity recreational trails on the water and on land, its provides the opportunity for exhilarating and enjoyable activities which result in wonderful adventures.
Clarisford Park is a sport & community facility on the banks of the River Shannon in Killaloe, Co. Clare. It was developed and managed by the Ballina Killaloe Sports & Recreational Facilities Development Ltd. (Clarisford Ltd), a local voluntary community group set up in large to address a sport and community facilities deficit in Killaloe, Ballina and the wider communities.
Mental Health Ireland is a national voluntary organisation which was established in 1966 as the Mental Health Association of Ireland. MHI's aim is to promote positive mental health and wellbeing to all individuals and communities in Ireland. We have a network of 92 Mental Health Associations throughout the country, all led by volunteers. Our Mental Health Associations fundraise to organise outings and events for those struggling with mental health in their communities.
Sport Ireland plans, leads and co-ordinates the sustainable development of competitive and recreational sport in Ireland.
FAQs
Who should attend?
All are invited to attend, and MINDSCAPE will be of particular interest to researchers, policymakers, students in environmental, well-being and outdoor activity sectors, sport NGB's and those involved in physical activity promotion, and members of NGOs and agencies interested in health, well-being, nature and our environment.
Is lunch provided?
Lunch is provided on-site both days and if you require a gluten free, vegetarian or vegan option or have any specialist food requirements please contact us via email (gogreenex@gmail.com). Tea/coffee is also provided prior to the commencent of proceedings at 8.30am and again in the afternoon.
Where to stay and find sustainable food?
The Lakeside Hotel & Leisure Centre sits on the banks of the majestic River Shannon with stunning views of the twin heritage towns of Ballina in Co. Tipperary and Killaloe in Co. Clare. Our award-winning gardens provide the ideal backdrop to the tranquil beauty of Lough Derg and swimming pool and leisure centre keep the most active fit.
Airbnb Church Street Killaloe Modern charming ground floor studio apartment in the heart of Killaloe next to all restaurants, bars, activities + much more. Killaloe is perfect getaway for foodies, watersport enthusiasts, hikers, bikers + everything in-between. I am happy to recommend all my favourite spots!
Wood & Bell is a warm and friendly café based in the heart of the community of Killaloe and Ballina. We're part of the Main Street Regeneration Project set up over ten years ago by Keith Wood, breathing life back into our old town and old buildings that had fallen into disrepair. We aim to look after locals and tourists alike with a friendly philosophy – simple Irish and continental food in a relaxed and comfortable setting.
Twin towns of the Lough Derg-Killaloe, County Clare, Ireland and Ballina, County Tipperary are situated on the banks of the River Shannon, and best known as the birthplace of Brian Boru (c. 941 - 1014), and High King of Ireland (1002 - 1014). While Brian was High King, he ruled from Killaloe making it the "Capital of Ireland."
How can I contact the organiser with any questions?
Please email gogreenex@gmail.com

Call Tadhg MacIntyre +353 87 8393630
or Andree Walkin +353 86 8329075
What are my environmentally transport/parking options for getting to and from the event?
Travelling by Air
Shannon International Airport is only 56kms from Clarisford Park, Killaloe, Co. Clare making Limerick accessible direct from a range of European destinations and world wide through the hub of London Heathrow. See Shannon International Airport for a full list of flights to and from Shannon. Flights to Dublin airport are well connected with Limerick by for example the M7 bus (www.dublincoach.ie).
Travelling by Car from Shannon Airport
If you decide to rent a car from the airport the best route to get to Clarisford Park (approx. 56k) and only 25 k from University of Limerick) by road can be found by logging onto this route planner.
Travelling by Bus
Bus Eireann provide connections to and from all Ireland's major cities, including Limerick. Telephone 353 (0)61 313333 for more information. The service offered by Bus Eireann runs from Shannon Airport to the main Limerick City bus station, Colbert Station, Parnell Street, Limerick. This bus departs at least once every hour from the Airport and costs approximately €5.30 one way. For a detailed timetable you should log onto www.buseireann.ie, and click on Airport Services. The last bus departs daily at 00h00 (midnight).
JJ Kavanagh & Sons, provides a service between Shannon Airport and 3 stops in Limerick, Arthurs Quay in the City Centre, outside the Main Gate of the University (Flagpoles of UL) or to the University (main campus bus stop). Tel: +353 (0)56 8831106. For a detailed timetable log onto www.jjkavanagh.ie, select Route "Shannon Airport - Limerick - Nenagh - Portlaoise - Kildare - Dublin City - Dublin Airport" timetable.
Useful Travel Links
Travelling by Sea
Ferry services operate from the UK and France and you can easily make a ferry booking enquiry online. Irish Ferries offer ferry services from the United Kingdom, France and Scotland.