Event Information
Location
Radisson Saint Helens
Stillorgan
Dublin
Ireland
Refund policy
Refunds up to 30 days before event
Description
MindShift
® - Foundation Program
Get Better Results In Business, Improve Your Clarity And Focus, And Have A Better Life
This is a radically different approach to how we work and live. Impact your results, mindset, health, relationships, peace of mind and actually feel like you have a life, while still achieving your most meaningful goals.
---
My name is Shane Cradock and I have created MindShift for people who are ready to make changes to drastically improve their results AND quality of life.
I've discovered that one doesn't have to be at the expense of the other.

It doesn't matter whether you're the CEO of a company, a freelancer or an employee, we're all being challenged in this Digital Age in unprecedented ways that we've simply not experienced before.

And, regardless of job title, industry or profession, my program will positively impact the way you work and live so that you have an inner calm and clarity of mind, even if your head is currently chock-full of busyness.

I can say that with confidence because I've seen the transformation in the hundreds of people who have already gone through my program.

Quite often their minds are tired.

They have decision-making fatigue.
Their energy levels are running low.
Yet the mental load and to-do list is ever-increasing.

The brutal truth is that they're not living their life in the way they want
and they're not being who they want to be.

So they're not living up to their potential or feeling fully satisfied with their life.

Yet it's not their fault.

Every single one of us has a brain that hasn't quite caught up with this Digital Age we're living in now.

And the demand for constant busyness means we are regularly switched on to notifications, emails, phone calls, on-demand news… the list goes on.
We might not be doing the same manual labour of our forefathers or physically ache at the end of our working days, but our minds are tired.

There needs to be a shift towards a new way of thinking, a new way of working, and a new way of ending each day and week feeling both fulfilled and energised.

I can help.
MindShift offers you a radically different approach to how you work and live.
Together, we will impact your results, mindset, health, relationships, peace of mind and actually feel like you have a life, while still achieving your most meaningful goals.
---
We Need A New Model For Working & Living
The model most people are using to work and live is completely out of date.
This can be seen with rising stress levels and a lack of real engagement in organisations. Business has become 'busy-ness'. And 'busy-ness', in the words of Bill Gates, is the new stupid.
We can reach the end of our working day and feel like we've been climbing a mountain, after struggling through a jungle and chased by predators!
Our bodies are fatigued even though, usually there hasn't been much physical activity. But it is our minds that are worn out. And we need a major shift in our approach - one that works from the inside out - a MindShift.
Society has moved from The Industrial Age into The Digital Age without reviewing our own models for getting best results. And things are very different.
It seems that the more advanced our world becomes, the more stress increases.
Technology was meant to have been our great liberator but it has become our jailer. People are working longer hours than ever, are connected 24/7, and finding it very hard to manage.
As our tech devices get more upgrades, we seem to be always behind mentally. For most the only solution is to get close to burn out and then either get to a yoga retreat or spa twice a year and hope for the best!
But this approach is only like taking an aspirin. It deals with the symptom and not the cause.
At the centre of the MindShift® approach is an inside out one i.e. we need to have a better understanding of how our inner world or mind works and then find practical ways to make this work in the real world.
---
Some Benefits Of Attending This Program:
Improved clarity and focus
Jump in effectiveness and results - in business and life
Reduction in stress
Higher sense of control and a reduction in overwhelm
Transformative personal development
Increased creativity and innovative thought
Improved performance as a leader
Improved sleep and energy levels
Improved communication across all levels of your life
Gain an edge in your career and life
Increased confidence and assertiveness
Important Results From Previous Attendees Also Include Significant Improvements In:
Clarity of mind
Ability to get more of what matters done
Productivity
Leadership Ability
---
The Age Of Disruption And Distraction
Before The Digital Age, there wasn't the same need to look at how we work from the inside out. But as a species we adapt to the existing challenges, and there is no doubt that we are being challenged mentally in a way we haven't before.
In this age our relationship with information has fundamentally changed - we know way too much. In 24 hours the average person consumes more information in one day that someone alive in the 19th century did in their entire lifetime!
Yet despite having more information than ever available to us, most people are not seeing the changes they really want. Stress is at an all time high, health is being challenged and most are not engaged with work.
Here are some findings from just one recent large scale study of business professionals:
40% of those surveyed said their inboxes are out of control
60% noted that they attend too many meetings
70% don't plan their weeks in advance
The majority said they lacked a sense of meaning, control, and achievement in the workplace
You could be fooled into thinking that the reason for this is poor time management or an overload in work. But you'd be wrong.
The real reason is a lack of understanding in how we work best, and central to that is an understanding of how we manage our minds.
Improving your mental effectiveness can impact some or all of the following:
Sales
Results that matter most
Your workload
Quality of thinking
Stress levels
Confidence and self-esteem
Health and energy levels
Quality of sleep
Communication
Life enjoyment and fulfilment
---
A New Approach To Training
The MindShift® Foundation Program shares a new approach. One that enables you to achieve more in your work while also having more life.
The program is run in a way that helps you to build habits that will stay with you. The problem with most training is that it never really lands. You often get inspired but a few weeks later, nothing has really changed. Existing habits pull you back into their orbit.
If you really want to change your results in business and life, it's vital to look at and change some of your habits.
***Please note that this is a program run over several weeks to create new habits that get the results you want. The program begins a week before the first in person workshop and to get the full benefit, you need to attend all FOUR workshops. If you can't make all of the workshops, let us know and we may be able to organise remote-learning to facilitate catch up.
---
The Value Of A Better You
If you can create a version of yourself that is more calm, centred and clear what impact will that have on your business? Or indeed your life?
What value would you place on it?
In my experience, for some business people the benefits experienced could be in the millions over several years. Or priceless when it comes to your peace of mind and relationships.
When you are more consistently a better version of yourself, you get better results. Results that impact your work, mindset, health, relationships, peace of mind and happiness.
---
Who Is MindShift® For?
Anyone interested in boosting their productivity, results and overall satisfaction in business and life. The program is designed to allow all types of roles and experience to participate.
"This training helped to bring real clarity to my way of working. It helped to sharpen my thinking.I'd estimate a 50% impact on ability to get more of what matters done and 60% improvement in my clarity of mind. Other areas that benefitted were my sleep, energy and communication with my team".
- Bill Walsh, Founder and CEO, Aspire Technology
"This program provides you with the tools to get clarity around your life inside and out of work. It provided me with simple processes to get better work life balance. There are very valuable take-aways for everyone regardless of their business or seniority. Do it - you'll thank me for recommending it to you. 10/10."
~ Niall McNiff, Founder and Director, real Time - The IT Recruitment Specialists
"This is like a life skills course. I can't describe the impact this workshop has had on me. It gave a lot more than I expected - business and personal. Highly recommended."
~ Andrew Leonard, Marketing Manager, Cricket Ireland
---
Here are 3 points to consider:
1. It used to be that you had a work life and then a personal life. But with mobile technology blurring that line, the reality is that we have one life. And most people are not equipped in how to navigate it effectively.
2. Most people have poor habits when it comes to their effectiveness. We all are creatures of habit and our habits define our actions and ultimately our results - especially the unseen mental habits. So doesn't it make sense to learn the best habits when it comes to your work and life?
3. Leadership is about influencing the minds of people around you in pursuit of a mission or goal. But how can you influence other people's minds when most have very little if any understanding of how their own mind works?
---
Some Features Of MindShift®:
MindShift® is a unique program created by Shane Cradock, that trains you in critical habits to help you get more out of your career, life and business.
Habits that help you attack The 5 Lacks in society today:
Lack of Energy
Lack of Meaning
Lack of Inner Clarity
Lack of Prioritisation
Lack of Results
The overall structure is a process that runs over 7-8 weeks and includes remote preparation, work and learning as well as 4 in-person morning workshops spaced 2 weeks apart.
The program is designed to equip you with the habits and tools to get more of the real priorities in your life and business done.
During the MindShift Program you will:
Learn simple ways to immediately boost your effectiveness
Learn the critical variable in achieving meaningful success
Learn how best to start your day and to set yourself up for better results
Understand how to lead in a better and easier way
Take a more strategic approach to your work and life
See how best to manage interruptions and reduce stress
Learn how to get back a minimum of 30 days a year for 'high priority' work
How to stay focused on what get's you and your company the best results
Learn the one thing that has the biggest impact on your productivity (& most courses never mention this...)
***While online learning is presenting interesting opportunities for learning, it is still in its infancy stage and nothing compares to in-person workshops for results when done effectively.
---
MindShiftTM Creator & Facilitator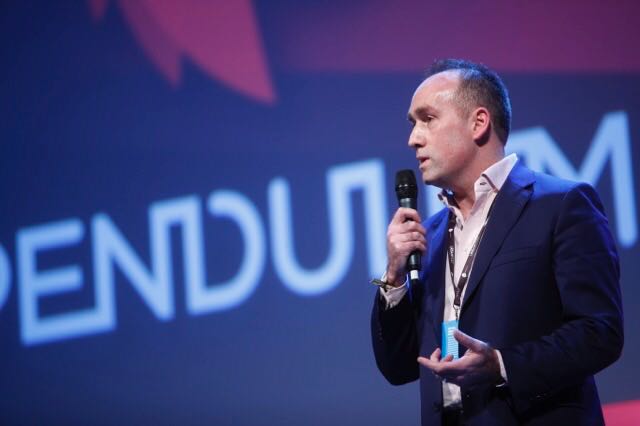 The program will be run by MindShift creator, Shane Cradock, who has over twenty years' experience as a leadership advisor and performance coach to high performing executives and entrepreneurs at all levels, from award winning SME's to global multinationals.
Shane changed career following a personal breakdown in his mid-twenties where he discovered transformative principles in how to get the best from ourselves, our organisations and out lives.
He has developed unique material that will save you hundreds of wasted hours and add a significant boost to your performance. It's a real art to find the simple things that make the biggest difference i.e. the 20% that impacts on 80% of your results. That's the focus of this program.
To show you how to make immediate changes that will impact on your productivity and life - but also give you high impact habits that will stay with you for life.
---

COURSE DATES: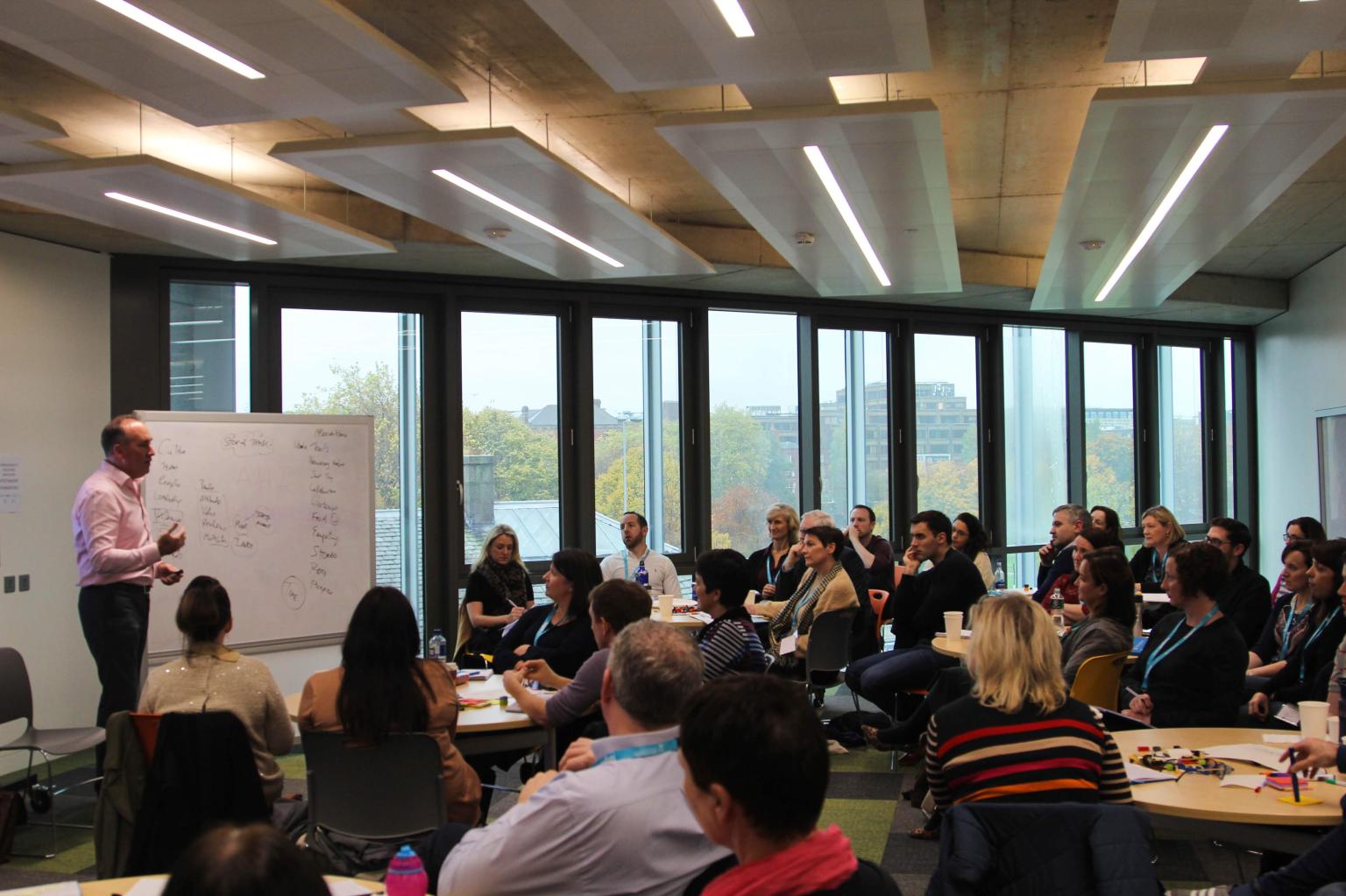 This program has a very unique format that is a blend of remote learning, short interactive workshops and daily accountability to generate habits and ultimately better results. A mix of companies with high calibre leaders will be participating so it's very useful networking also with like minded people.
**Note: To participate and get the best from the program, it's advised that you attend all four in-person workshops.
Dublin Program Dates:
Last date to sign up: 17th February
Remote Preparation Work: 19th February
Workshop 1: Wednesday 26th February - 10am to 1pm
Workshop 2: Wednesday 11th March - 10am to 1pm
Workshop 3: Wednesday 25th March - 10am to 1pm
Workshop 4: Thursday 9th April - 10am to 1pm
- Venue: Radisson Saint Helen's, Stillorgan.
Please note that the program starts specific preparation from the 18th of February and sign up for the program closes on the 17th February.
.Fee: €895 ex.Vat from 25th January 2020 (This is a limited attendance event)
Early bird fee available @ €695 ex.Vat up to 24th January 2020.
Think about the value of your effectiveness over the next year, in relation to your business and your life. MindShift participants experience a minimum increase of 30% on average in their effectiveness. What would that be worth to you?
To Reserve A Place:
Please buy your ticket here or if you'd rather avoid extra charges and do a bank transfer, please send an email to support@shanecradock.com, and we will be in contact with further details.
Discounts available for private clients and group bookings.
---
TESTIMONIALS FROM PREVIOUS PARTICIPANTS
"The processes are extremely simple, are easy to implement and have an incredible impact once you use them. I've seen improvements in confidence, sense of control, reduced stress levels, mindset/attitude. I've learnt how to prioritise more effectively and how to plan properly. I have a clear understanding that there is no point 'being busy' unless you are busy at what is going to benefit you in the bigger picture. Clarity of mind +70%. Effectiveness +70%."
Kelli O'Keefe, Managing Director Teneo PSG
"Before I was focusing solely on my professional life but not getting the most from my personal life. I now realise that balanced success isn't just a concept but actually possible. I have learned the importance of planning to do the things I love to do the most in all areas of my life. I feel much more in control of my work and life goals and feel like I can achieve anything. The results to date have been fantastic and I have developed so much personally."
~ Gretta Nash Cadden, Human Resources Manager, Brown Thomas Regional Stores and BT2
The benefits of the program for me are better planning, mindset, productivity, organisation and therefore more effective, efficient and less stressed. Overall I'm more focussed on my goals also. I couldn't get over the difference in terms of my mental clarity from understanding the "ROCKS" principles. 10/10."
~ Paul Cadden, Founder and Managing Director of Saba Restaurant Group
If you follow even just some of the advice given in this workshop, it changes the way you live by helping you to stop, assess and focus on priorities both in your work and your life. I can't get over the difference in my energy levels just by doing one of the strategies alone plus my focus is dramatically better.
~ Director of Recruitment Company in Dublin
---
RESULTS FROM RECENT IN-HOUSE PROGRAM
The program was run in-house as High Performance training for a group of senior managers in a fast expanding company in the health/tech sector. The purpose was to enable all leaders to grow as the business grew, while also improving quality of life.
Top-line results of interest:
Impact on Clarity (Avg): +75%
Impact on ability to get more of what matters done (Avg.) +85%
Impact on Productivity (Avg): +80%
Impact on Leadership (Avg): +80%
NPS score from 22 participants: 100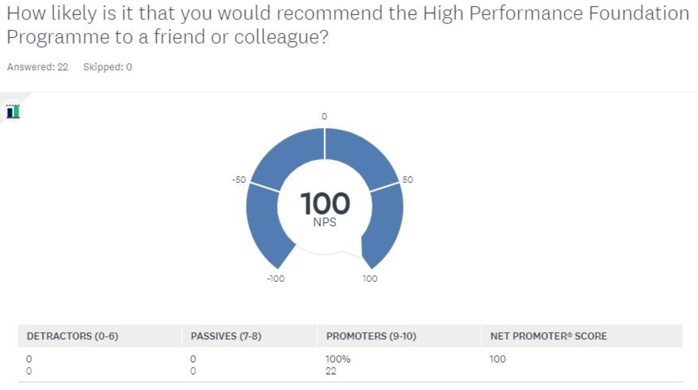 Top areas improved in graphic below:
Sense of control
Results
Mindset/Attitude
Reduced Stress levels
Work/Life Balance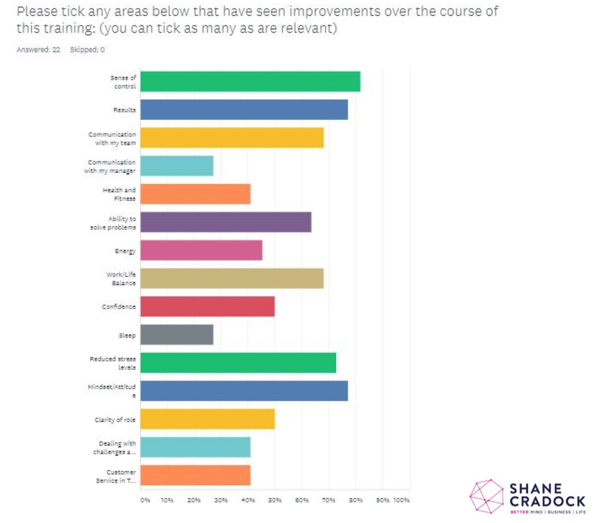 ---
Frequently Asked Questions (FAQs)
1. I don't have time to do the program now - when will it run again?
This program usually runs once or twice a year (Feb/Mar and Sep/Oct). You should know that this is the top objection to participating in MindShift - and the most common comment on completion is 'I wish I'd done this sooner'. The time is never right to commit to a program like MindShift - but it's structured in such a way as to really impact your habitual ways of living, working and thinking. The results speak for themselves. Why wait?
2. What kind of people attend MindShift?
The program is designed so that anyone at any level can participate. Typically, it's leaders from any industry, which can include managers, C-level Executives, CEOs, entrepreneurs, business owners and self-employed professionals. CEOs often bring their entire leadership teams to impact and change the culture in one go. One of the benefits of the way the program is set up is the diversity of thinking that it brings into the room - something that is needed in all organisations today.
3. I've completed TimeShift - is MindShift very different?
TimeShift was re-branded to MindShift in 2020 for 2 reasons: 1. The name is more reflective of the feedback and the results from participants and 2. The program has 30% new content and a 4th workshop has been added, which lengthens the time of support and time to build new habits - particularly inner ones. Many who have completed TimeShift are also doing MindShift because of the new content, and also the opportunity to get a refresh or kick-start for their own momentum.
4. Am I at a high enough level to attend this program?
Sometimes people will ask this question because most of my private work is with C-level executives and entrepreneurs. This program has been designed in such a way that it works regardless of level or experience. If you participate, you will see that you could be sitting beside someone with incredible experience and responsibility and someone who is on their way up. That's the beauty of the program - plus it adds a huge amount to the diversity of thinking and learning - which is what's needed in The Digital Age.
5. I may not be able to attend all 4 workshops in the program - will that affect the impact for me?
This is a common question and the short answer is that yuo will get the best results if you can attend all of the in-person workshops. Having said that, many attendees have travel as part of their roles and attending all workshops just isn't possible. We can share materials with you for remote learning if you can't make a workshop - this will help you to stay up to date with the program.
---


TESTIMONIALS FROM PREVIOUS PARTICIPANTS
"The training enabled a realisation of how effective one can become. Powerful development both professionally and personally." % Impact from TimeShift on your ability to get more of what matters done: 100%+ ; % impact from TimeShift on your Clarity Of Mind: 100%+
Stephen Gormley, Managing Director, BTW Sandyford
"This program gets your life in order. It helps you to take back control of your life and it is very life changing, even though I expected it to work on just my business".
Ross Kremin, Managing Director of The Passive Lab, Score – 10/10
---
Key Dates For This Program
Last date to sign up: 17th February
Remote Preparation Work: 19th February
Workshop 1: Wednesday 26th February - 10am to 1pm
Workshop 2: Wednesday 11th March - 10am to 1pm
Workshop 3: Wednesday 25th March - 10am to 1pm
Workshop 4: Thursday 9th April - 10am to 1pm
- Venue: Radisson Saint Helen's, Stillorgan.
Please note that the program starts specific preparation from the 18th of February and sign up for the program closes on the 17th February.
Normal Fee: €895 ex.Vat from 25th January 2020 (This is a limited attendance event)
Early bird fee available @ €695 ex.Vat up to 24th January 2020.
---
If any of the above resonates with you and you're still thinking 'I wish I had the time to do this', then this is definitely for you! There is never a 'right time' for TimeShift - the most common feedback heard after the program ends is 'I wish I'd done it sooner.'
To Reserve A Place:
Please buy your ticket here. If you would like to book a group into the program, please send an email to support@shanecradock.com, and we will be in contact with further details.

Date and time
Location
Radisson Saint Helens
Stillorgan
Dublin
Ireland
Refund policy
Refunds up to 30 days before event