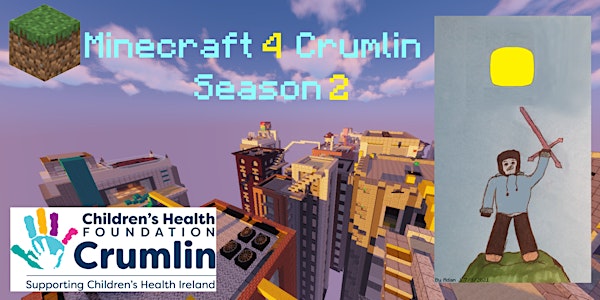 Minecraft 4 Crumlin Season 2
This is a Minecraft Hypixel Charity Tournament in aid of Crumlin Children's Hospital, Dublin, Ireland - Bedwars, Build Battle and Skywars!
Refund Policy
Contact the organiser to request a refund.
About this event
Questions and Answers:
What is Hypixel?
Hypixel is a Minecraft Java Server.
What devices may I use?
You may use either a PC or Laptop. No other device types can be used.
What is Crumlin Children's Hospital?
Crumlin is Ireland's largest children's hospital. https://cmrf.org
Rules and Entry Requirements:
Entrants should be aged between 10 and 16 years. Parental consent is necessary.
This is a "tournament" but it is for fun only, purely for charitable purposes. There are no prizes because 100% of the entry fees will go to Crumlin.
A minimum of 7 entrants is required to run this tournament. But it is more fun if there are more players, so please invite your friends. It's all for a very good cause!
You will play 2 games each of Bedwars, Blitz SG and Skywars. The maximum total duration of all your games is 2 hours. The player with the most points after all his/her games will be declared the overall winner.
You must have the Java Edition of Minecraft. No other edition is supported in this competition.
You must have Discord and you must be in our Discord server to compete. You will receive the link after you purchase your entry ticket.
When you join the Discord server, you will be required to verify yourself by providing your Eventbrite ticket number. Keep this number in a safe place because you will not be permitted to join without it.
Entrants will be placed into groups to play against each other. The schedule of games for each group will be published before the tournament.
You must be ready for your game at the scheduled time. We cannot wait for you because delays throughout the day would prolong the tournament. Please be on time.
Be respectful at all times to the host and other players. If you break this rule, you will be disqualified and removed.
If the host gives you an instruction to stop or take an action, you must comply without delay.
You must follow Hypixel's terms of service (TOS).
Do not hack.
No cross-teaming with the enemy.
No camping.
If you believe that someone is cheating, notify the host immediately.
We advise you to play some games on Hypixel before the tournament.
The host's decision on all matters is final. Players who breach the rules will be disqualified.