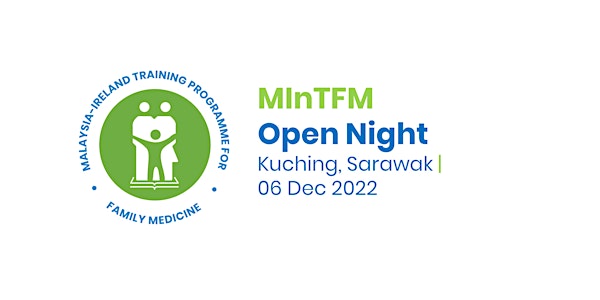 MInTFM SARAWAK OPEN NIGHT (KUCHING) 6 DEC 2022
MInTFM is recruiting for SARAWAK! #Choose FMSCChoose MInTFM
When and where
Location
Merdeka Palace Hotel & Suites Jalan Tun Abang Haji Openg Kuching, Sarawak 93000 Malaysia
About this event
The Malaysia-Ireland Training Programme for Family Medicine (MInTFM) is expanding to Sabah and Sarawak. So if you are a Medical Officer interested in specialist training in family medicine, join us for an OPEN NIGHT in KUCHING to know more about the programme.
MInTFM is a specialist training programme by RCSI & UCD Malaysia Campus in collaboration with the Irish College of General Practitioners (ICGP) and iHeed, a medical education technology organisation.
MInTFM provides the ICGP curriculum for Family Medicine that is adjusted to suit the Malaysia healthcare setting. The programme will be delivered similarly to the Irish course in a four-year training scheme which leads to the registration on the National Specialist Register (NSR). Upon passing the examination, trainees will also be on board as a Member of the Irish College of General Practitioners.
IMPORTANT :
(1) This training programme is available for all permanent and contract medical officers registered with the Ministry of Health.
(2) All Contract Medical Officers completing a specialist pathway must have Government sponsorship and must apply separately for this by 30 NOVEMBER 2022. http://ehlp.moh.gov.my/
(3) All applicants, be it permanent or contract Medical Officers must also apply to the Ministry of Health BPL (Bahagian Pengurusan Latihan)
For more information, kindly email admin.mintfm@rcsiucd.edu.my