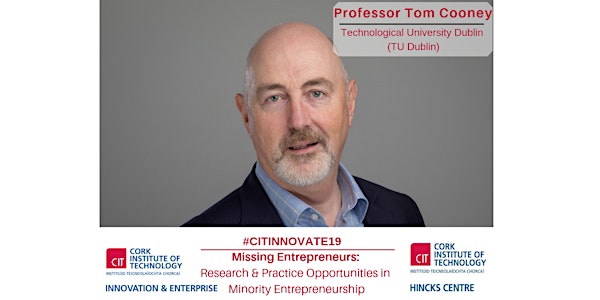 Missing Entrepreneurs: Research & Practice Opportunities in Minority Entrepreneurship
When and where
Location
Melbourne Building Cork Institute of Technology Bishopstown T12 P928 Cork Ireland
Description
You are cordially invited to attend a presentation by the illustrious Professor Thomas Cooney, TU Dublin on 'Missing Entrepreneurs: Research & Practice Opportunities in Minority Entrepreneurship'. Professor Cooney is brought to you in association with the Hincks Centre and CPEER Seminar Series.
The seminar will take place 10am-12pm in the Melbourn Building, first floor, at CIT's Bishopstown Campus on Friday, March 8, 2019.
Tea / coffee will be served from 9.45am
About the Seminar:
Title - Missing Entrepreneurs: Research & Practice Opportunities in Minority Entrepreneurship
Brief Description - Recent annual reports by the OECD on 'Missing Entrepreneurs' have focused on Women, Immigrants, Youth, Unemployed, Seniors and People with Disabilities. But 'Missing Entrepreneurs' can also include other disadvantaged and marginalised communities such as Ex-Offenders, Travellers, NEETs, LGBT, Indigenous, Veterans and Refugees. There is a dearth of research regarding the entrepreneurial behaviour of many of these communities and the additional and distinctive challenges that they face when starting a business. This presentation questions the manner in which minority or disadvantaged communities are understood by researchers, practitioners and policymakers, and argues that substantial research and practice opportunities await those who wish to analyse entrepreneurial behaviour within these communities.
About Professor Cooney
Thomas Cooney is Professor in Entrepreneurship at Technological University Dublin, Academic Director of the Institute for Minority Entrepreneurship, Adjunct Professor at the University of Turku (Finland) and former Editor of the academic journal Small Enterprise Research. Additionally, he is a Fellow of the European Council for Small Business, a TedX Speaker and is Policy Advisor to Governments, the European Commission, OECD, European Training Foundation and other international organisations. He has a strong publications record in the field of entrepreneurship and his 10th book (Research Handbook on Minority Entrepreneurship) is due for publication in 2020. He is a director of several enterprises and additionally works with commercial and not-for-profit organisations in a variety of capacities. Full details of his academic career can be found at www.thomascooney.com.
More details on CPEER can be found on the Hincks website – www.hincks.ie