Intimate open-air concert with Kate Ellis, Caimin Gilmore, and Caoimhín Ó Raghallaigh at Hilton Park, Co. Monaghan
About this event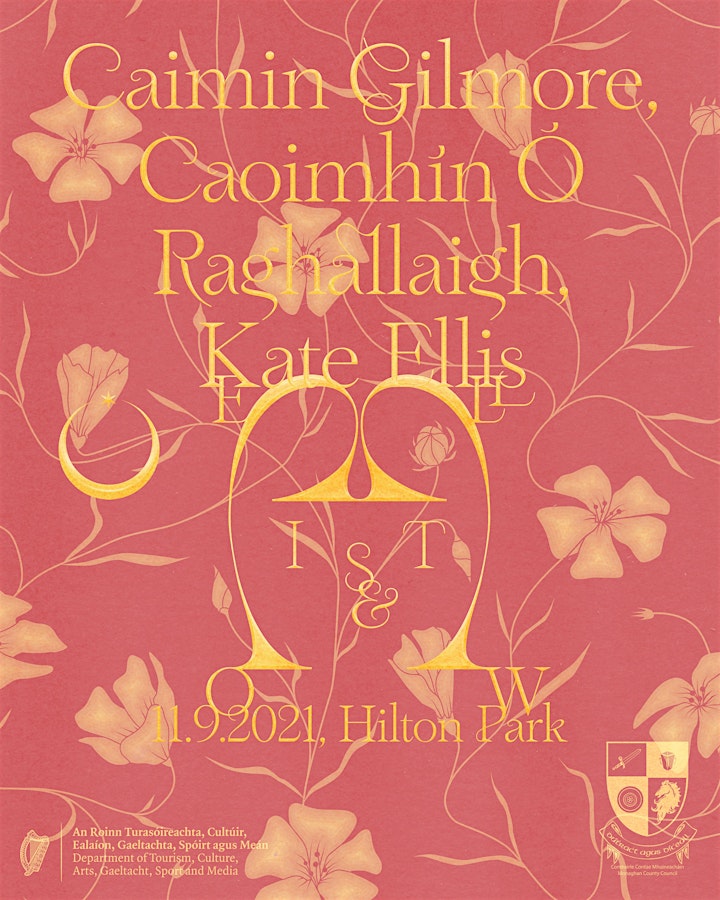 Season of mists and mellow fruitfulness,
(…) thou has thy music too
Join us as we celebrate exceptional national and local artists who have worked through these odd times for enchanting early autumn concerts in the magical accredited wildlife estate of Hilton Park.
Join Kate Ellis on the cello, Caimin Gilmore on the double bass, and Caoimhín Ó Raghallaigh on the hardanger d'amore to gather in gratitude for precious music and connection.
The grounds will be open from 16.30, closing at sundown. Guests are encouraged to bring rugs or their own low back seating to watch the performance on the front field at Hilton Park, as well as appropriate outdoor seasonal coverings.
Sets will start at 18.00, ending at 20.00.
Parking will be available onsite, carpooling is encouraged.
BYO and leave no trace waste policy.
Snacks & refreshments available.
Please note the natural drumlin gradients (uneven ground).
Toilets located a distance from the field (limited capacity).
Sorry, no dogs as we are a working farm.
No weekend prices or overnight stays.
Over 16s only.
The event will follow reopening plan guidelines regarding outdoor events, and personal responsibility for the audience's own health is being stressed. However as things are constantly changing, the concert may be cancelled or rescheduled should official Covid public health measures deem it necessary.
Produced under the Local Live Performance Scheme, with generous support from Monaghan County Council and the Department of Tourism, Culture, Arts, Gaeltacht, Sport and Media.
"The most singular traditional Irish musician of [his] generation." State Magazine, Ireland
Caoimhín Ó Raghallaigh makes music on a 10-string fddle called the hardanger d'amore. He has performed on some of the most beautiful stages in the world, including the Sydney Opera House, the Royal Albert Hall and the Carnegie Hall.
He has made eighteen recordings to date, ranging from quite traditional to fairly out there, and continues to explore the region where traditional music begins to disintegrate.
Caoimhín performs as a solo artist, yet is also widely known through his collaborative work, including groups The Gloaming and This is How we Fly, and duos with Dan Trueman, Thomas Bartlett, Garth Knox, Mick O'Brien and Brendan Begley. He has also performed with artists such as Laurie Anderson, Vincent Moon and Amiina.
He has made music for theatre and flm, including music for the Oscar-nominated movie Brooklyn and Volker Schlondorff's Return to Montauk.He plays a stunning 10-string instrument made by Norwegian luthier Salve Håkedal. The top five bowed gut strings plus the five sympathetic strings below give the fiddle a wonderful resonant sound. It is somewhere between a hardanger fiddle and a viola d'amore, so he has taken to calling it the Hardanger d'Amore.
He uses baroque and transitional bows made by a wonderful French bowmaker named Michel Jamonneau. His bows are things of great beauty, like paintbrushes for sound. They are the perfect match for the Hardanger d'Amore, and together, teach him something every time he picks them up, expanding what is thinkable and possible.
Double Bass player Caimin Gilmore and Cellist Kate Ellis are two of Ireland's most engaging instrumentalists. They are leading improvisers and composers with expertise in the performance of new music. They have performed as a duo since commissioning composer Sam Perkin in 2019. They recently commissioned a further four works from leading Irish composers, to be released on Ergodos Records in 2022, & embarked on their first nationwide tour this June, premiering some of the works.
Kate & Caimin will perform new music, weaving traditional music & improvisation throughout, to create a one off performance.
Kate Ellis is cellist and Artistic Director of Crash Ensemble, Ireland's leading new music group. She performs with Martin Hayes' ​Common Ground Ensemble a​nd has collaborated with Karan Casey, Mel Mercier & Rhiannon Giddens. In 2009 Kate co-founded Kaleidoscope Night - a monthly music salon featuring classical/contemporary/improvising and folk musicians.
Caimin has extensively toured the U.S.A, Europe, Australia, Asia, U.K and Ireland as a Double Bassist, including Lisa Hannigan's At Swim album tour. He is a member of Crash Ensemble, s t a r g a z e and plays regularly with the RTÉ Concert Orchestra, National Symphony Orchestra of Ireland and Ulster Orchestra. He recently released his first solo EP, 'String Ogham Live', featuring new work for Solo Double Bass. He has performed with Damon Albarn (Blur), Zach Condon (Beirut), Aaron Dessner (The National), Greg Saunier (Deerhoof), and recorded on 'Happens to the Heart' with s t a r g a z e and Adam Cohen on Leonard Cohen's posthumous album, 'Thanks for the Dance'.