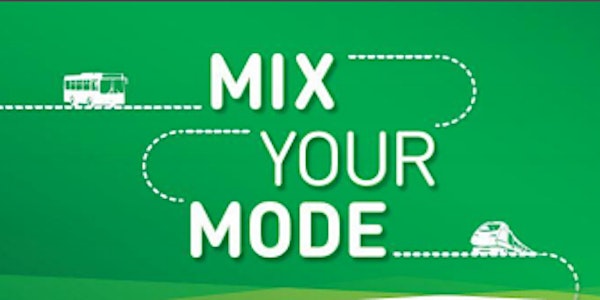 Mix Your Mode Seminar- Healthy Commuting Options and the Built Environment
Location
Council Chambers, Cork City Council, City Hall
Anglesea Street
Cork
Ireland
The Transport and Mobility Forum Cork presents the 2019 Mix Your Mode Seminar entitled 'Healthy Commuting Options and the Built Environment'
About this event
The Transport and Mobility Forum Cork is delighted to announce this year's Mix Your Mode Seminar will take place on Friday 29th March at Cork City Hall. This year's theme is 'Healthy Commuting Options and the Built Environment' which aims to explore how the built environment influences active travel. The seminar offers stakeholders a great opportunity to hear about and discuss modern sustainable and active travel developments and goals for Cork as well as learning about the Regional Assembly, EU Sustainable Transport projects, the work of SUSTRANS in Northern Ireland, Enhancing the Built Environment to make it more inclusive and other best practice examples here and abroad.
The half day seminar will be a combination of talks and discussions with opportunity for networking during the interval refreshments. There will be 4 keynote speakers as follows:
1) MatchUP, European Mobility Week and Good Practice case studies by Rose Power*, EU Projects Officer, The Southern Regional Assembly
2) SUSTRANS Case Study- European funded CHIPS project in East Belfast by Gordon Clarke, SUSTRANS National Director for Northern Ireland and the Republic of Ireland
3) 'Enhancing the built environment and public transport modes for people with sight loss' by Jessica Ní Mhaoláin, Disability Rights Advocate and Advisor to Liadh Ní Riada MEP for Ireland South.
4) Michelstown Walkability Audit by Cllr Kay Dawson, Fine Gael (Cork County Council)
Roundtable Discussions
Following the speakers and a break for refreshments, attendees will participate in 1 of 4 different discussions relating to the promotion and development of sustainable and active travel. These workshop discussions will result in goals which we aim to take forward as individual projects. The workshop discussions are:
1. The Built Environment from the perspective of people with mixed mobility. Facilitated by Jessica Ni Mhaolain.
2. Mapping workshop for Cork City- Mapping the 5 and 10 minute city and looking at the boundary extension. Facilitated by Shane Clarke (CEO Nano Nagle)
3. Your journey today- a discussion around the different modes travelled today by attendees and how they could be improved Facilitated by Sandy McGroarty (TMF Coordinator)
4. Small Changes, Big Impact- how low cost measures in the built environment can lead to big behavioural change. Facilitated by Jeanette Fitzsimon (Lecturer UCC MPLAN) and Adam Darcy (Lecturer School of Architecture)
Mix Your Mode on your journey to the Seminar!
As part of this year's Seminar we are asking you to 'Walk the Talk' and 'Mix Your Mode' when travelling there and back. A discussion will feature on the day looking at your experience of the different modes of transport and how they could potentially be improved. If you are taking the bus or train, why not hop on one of our public bikes and cycle to City Hall where there is a doc to park up (https://www.bikeshare.ie/cork.html). Or you could bring along your own bike, we even have a pump station outside the venue. If you are driving, you could choose to avoid the city centre traffic and parking fees by jumping on the Black Ash Park and Ride which drops you right outside City Hall (https://www.corkcity.ie/en/council-services/services/parking-services/where-to-park/the-black-ash-park-ride.html). You could simply use your legs and soak up the atmosphere of the third friendliest city in the world (https://www.irishexaminer.com/breakingnews/discover/cork-voted-third-friendliest-city-in-the-world-861952.html)! Or surprise us with an even more unusual mixture of travel modes!
Who are we?
The Transport & Mobility Forum, Cork (TMF) is a representative group of organisations who have a common interest in sustainable and active travel. TMF fully support sustainable modes of travel measures and policies. Sustainable and Active Travel helps reduce congestion on our roads, supports a low carbon economy, reduces noise and air pollution, improves public health and quality of life.
https://transportandmobilityforum.com/