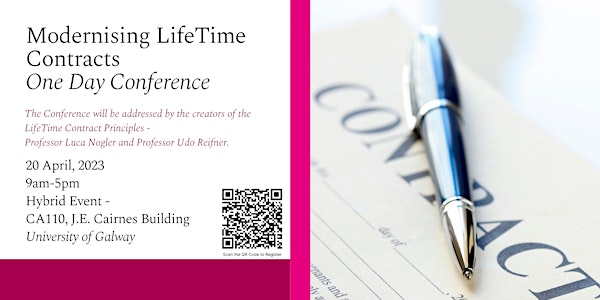 Modernising LifeTime Contracts Conference
The Conference will be addressed by the creators of the LifeTime Contract Principles - Professor Luca Nogler and Prof Udo Reifner.
By The College of Business, Public Policy and Law
Date and time
Thu, 20 Apr 2023 09:00 - 17:00 IST
Location
J.E. Cairnes School of Business & Economics (please advise if you will view online- link to follow registration). Room CA110, St Anthony's Building 49 Upper Newcastle H91 YK8V Galway Ireland
About this event
The principles of LifeTime Contracts apply to contracts for the essentials of life, food, housing, employment, energy and credit, essential for the self-realisation of people and their participation in society, guaranteeing a minimum of social dignity and moral values. Some of these Principles are informing the development of EU consumer law and being advanced within the CJEU application of consumer rights in relation to energy and employment as well respect for home and mortgage consumer rights. The Event will be of interest to private, contract, consumer, labour, housing and other lawyers as well, as EU and public policy researchers.
Agenda
9:00 AM - 10:00 AM
Professor Andrea Nicolussi and Professor Professor Luca Nogler
---
Reasons for the LifeTime Contracts category and the reasons for rethinking and increasing its principles.
10:00 AM - 10:30 AM
Coffee
---
Friars Restaurant
10:30 AM - 11:30 AM
Professor Chiara Cristofolini
---
Collective protection of people who benefit from goods essential for their existence through LTCs.
11:30 AM - 12:30 PM
Professor Udo Reifner
---
An historical perspective on LifeTime contracts.
12:30 PM - 1:30 PM
Lunch
---
Friars Restaurant
1:30 PM - 2:00 PM
Professor Padraic Kenna
---
LifeTime contracts and regulation of housing systems.
2:00 PM - 2:30 PM
Professor Geraint Howells
---
How digitization makes consumer contracts LifeTime contracts.
3:00 PM - 3:30 PM
Professor Elena Bargelli
---
Right to respect for the home and evictions in tenancy and mortgage contracts.
3:30 PM - 4:00 PM
Professor Irene Visser
---
LifeTime contracts and homeowners/mortgage debtors
4:00 PM - 5:00 PM
General discussion on modernisiation of LifeTime contract principles.