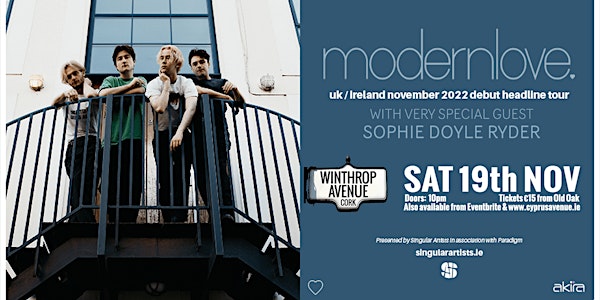 When and where
Location
Winthrop Avenue (@ Old Oak) Winthrop Lane T12 DE6W Cork Ireland
About this event
Rising Drogheda quartet modernlove. Play a headline show at Winthrop Avenue this November as part of their debut national tour, celebrating their new EP 'Oh My Mind' out everywhere now. With very special guest Sophie Doyle Ryder
Following a wave of singles over the last few months, including 'Don't Wanna', 'Us', 'Follow You', 'Islands' and most recently 'familiar', Drogheda indie-pop-rockers modernlove. have delivered their eagerly-awaited new EP Oh My Mind through Akira Records.
As the opener to 'Oh My Mind', the shimmering title-track perfectly reflects the rich and dynamic direction the band have been exploring throughout this new EP. Focusing on the mental health struggles that have arisen in a post-pandemic world, their newest gem is a warm and inviting pop-rock delight that builds upon their glittering aesthetic to date. A playful video was shared to support the single.
"Oh my mind explores the modern day neuroses of young people and the mental health challenges brought upon them by pop culture, the internet and most recently, the coronavirus lockdowns," the band explain. "I think we all went a little mad over lockdown and most of this EP was written in that state of social isolation. Without distraction or release from cycles of negative thought you can begin to spiral to the point of derealisation and being in a constant state of panic.
"But then we kinda juxtaposed that by a brighter and more playful sonic composition. I think as young people, we tend to joke about our mental health as a way of relating to one another and not feeling so alone in all of it. So it felt natural to write a poppy, upbeat song about such dark themes rather than treating them with a forced solemnity and formality."
modernlove. explore the complexities of the modern lives of twenty-somethings; with Barry, Cian, Danny and Graham of Drogheda already nailing their sound. Theirs is a sonic world of polished, indie-pop with a glossy '90s sheen and intricate details.
PRAISE FOR MODERNLOVE.
"modernlove. can soundtrack your daydreams, your visions of the future and your memories of the past" THE LINE OF BEST FIT
"The indie-rock collective are making heartbreak sound sweet" WONDERLAND
"A beautiful bursting sound." EARMILK
"Ones To Watch" OFFICIAL CHARTS
"Indelible indie pop." UNDER THE RADAR
"modernlove. brings vulnerability and longing with acoustic chords and ethereal sounds." MTV
"bold and blistering pop-rock" – RECORD OF THE DAY
"Cut from the same cloth as The 1975 at their poppiest." THE RODEO MAG