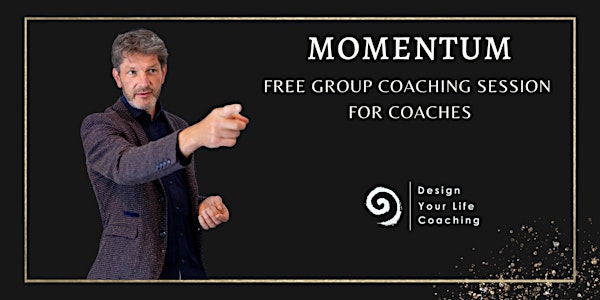 Momentum - Free Monthly Group Coaching Session for Coaches
Join double award winning Shane Pearson for this free group coaching session and make this month your best month yet
About this event
Have you (fairly) recently trained as a health/wellness coach or as a wellness practitioner only to find out how hard it can be to turn that qualification in to a satisfying and profitable business?
Momentum is a free personal goal setting coaching session for trained coaches and wellness professionals who are trying to build thier dream career and want some extra support, comradery and guidance.
Shane Pearson is a double award winning coach and an experienced mentor and trainer of coaches. He knows first hand how hard it can be to maintain the growth and momentum you experience during a training course once it finishes. Unfortunately, statistics show that only a fraction of those who train to become coaches/practitioners ever go on to work in that speciality full time!
Shane wants this to change and his mission is to help more health coaches and wellness professionals overcome self doubt and lack of clarity to build successful careers and practices to help make the world a better place. These coaching sessions are designed to help you maintain the momentum you need to take yourself and your business to the next level.
Join accredited Thought Leader and double award winning Coach, Shane Pearson, and a group of like-minded individuals and:
Set your personal goals for the month
Plan your next steps
Design a SMART plan of action
Build in accountability and support
Get coaching on any barriers
Have some fun too!
Places wil be limited so book your place now.