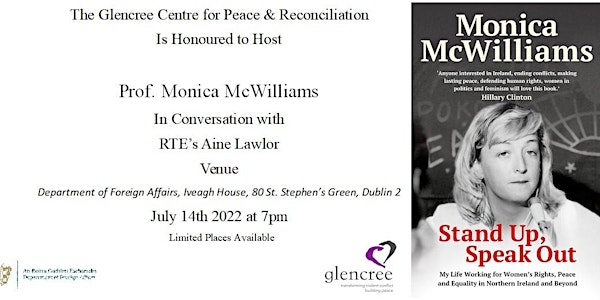 Monica McWilliams In Conversation
We invite you to spend an evening hearing about the life and career of an extraordinary woman who made a unique contribution to the Island.
When and where
Location
Iveagh House Saint Stephen's Green Dublin 2 Ireland
About this event
The Glencree Centre for Peace & Reconciliation is honoured to host Professor Monica McWilliams in conversation about her life, career and role in the negotiations that led to the Multi-Party Agreement of April 1998. To many, Monica exemplifies the best of what it is to offer public service as a citizen. When the Troubles were raging in Northern Ireland, Monica was involved in assisting communities and individuals, particularly women who suffered domestic violence. She was campaigning for better housing and access to services for people unable to find a voice over the din of bombs and bullets. As an academic, she sought ways to encourage younger people to pursue educational opportunities that would provide the keys to their future out of the poverty and disadvantage that the violence was compounding across many areas in Northern Ireland.
In the 1990s, she and several other women established the Northern Ireland Women's Coalition that sought election and won seats that subsequently entitled them to participate in the multi-Party talks chaired by Sen George Mitchell. Since the Good Friday Agreement, Monica has served in the Northern Ireland Assembly and as Human Rights Commissioner. Today Monica is a Member of the International Reporting Commission on ending Paramilitarism in Northern Ireland. She still travels to other parts of the world affected by conflict and shares many of the experiences and lessons she learned from her years working between the ground and the pinnacle of peace building in Northern Ireland
We wish to acknoledge that this event is being hosted with the support of the Department of Foreign Affairs In Dublin.