Event Information
Location
The Yard @ Aghafore
Timoleague
Bandon
Ireland
The 3rd Tuesday of every month at 7pm @ The Yard Aghafore.
About this event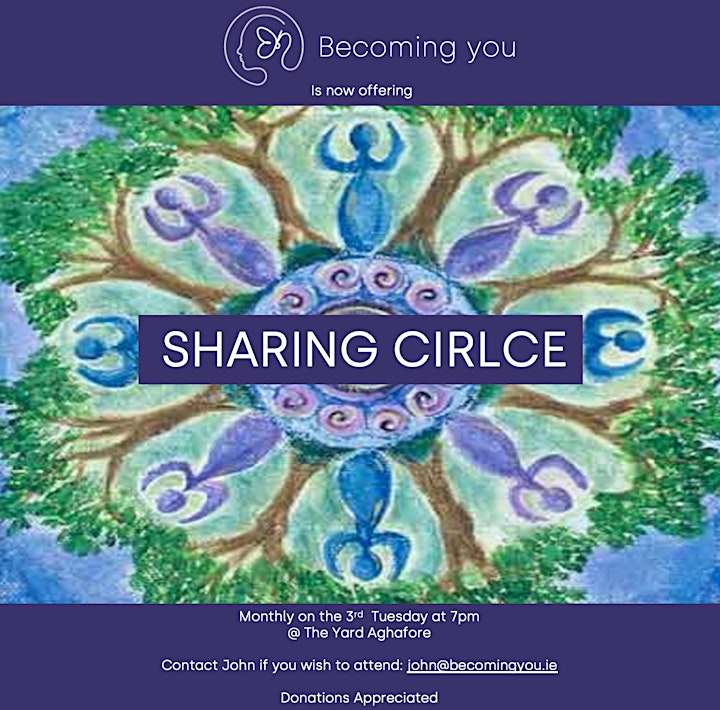 The Sharing Circle is a space where people can listen and be listened to. It's an individual and collective field of wisdom and healing. Sharing Circles are ancient healing spaces where we get witnessed and witness our and others' inner processes. It is a space of deep listening and of speaking one's truth without fear. In this way we learn more about ourselves and the truth of our souls.
One of the key medicines of the Shamanic tradition is sharing. With this Sharing Circle, I will offer a protected sacred space of wisdom and learning to come back to ourselves, to reconnect and to grow individually and collectively, in front of a sacred fire, guided by the Four Elements.
Practical Considerations
The Yard is predominantly an outdoor space - the session will happen in the big shed which is classed as an outdoor space because of the % of it that is not enclosed, as such these sessions will be categorised as outdoor sessions. There are some things for you to consider before you book in:
There are no doors on the shed yet and as such both ends are open to elements - If the weather isn't great it may be cold and/or even a bit wet. I don't let this deter me as I embrace the elements in my work as such I will never cancel a session because of bad weather unless it is a status yellow warning or above.
Please note we do not currently have a toilet at The Yard.
There will be plenty of parking and you can arrive anytime from 6:45pm onwards.
The session will last 3 hours from 7pm to 10pm.
There is no charge for the sessions and donations are greatly appreciated. All donations will go directly into improving the Shed and its comfort levels.
Cushion
Blanket
Pen 🖊
Notebook 📔
Warm clothes
Covid Considerations
I will cap session at 15 people including me.
I will strive to keep a good physical distance between all attendees. As such I will ask you to spread your mats out.
I will not be asking people to wear a mask as this would hinder the experience. As both ends of the shed are open there is exceptionally good ventilation.
I will not be asking people if they are or are not vaccinated and we will not be determining inclusion/exclusion on this basis
I will ask you to fill in an online webform questionnaire on the day of the event. If you answer yes to any of the questions on this questionnaire I will ask you not to attend the event that day.
Location
The Yard @ Aghafore
Timoleague
Bandon
Ireland