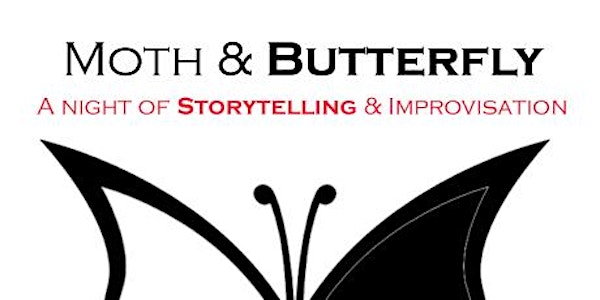 Moth & Butterfly Winter Storytelling Session - 'Light The Fire' @ Rouge
Moth & Butterfly present 'Light The Fire' - a night of live Storytelling & Improvisation
When and where
Location
Rouge Restaurant 38 Dominick Street Lower H91 XYW0 Galway Ireland
About this event
Moth & Butterfly present their popular storytelling night, incorporating improvisation, true stories and fictional tales, with contributions from the M & B crew, special guests, and the audience themselves.
"One of Galway's most magical Arts Events..."
Doors are at 7 pm
Moth & Butterfly brings together the art forms of both Storytelling & Improvisation.There will be three types of Storytelling on the night:
'Moth' style stories are short, true, thematic, and feature the teller themselves as the central character. A homage to the wonderful 'Moth' storytelling, stories run about 8 or 9 mins but shorter is fine. Much more interesting than jokes or a yarn, we always prefer a story of something that had an impact on you, something important to you. It can be funny of course but by no means has to be. Think of it as a story that changed you in some way, however small, We love your truth, warts and all! Improvised stories will be created fresh on the spot – no two are the same! We have different improvisational formats including: 'Stories From The Hat' (where the audience picks an object for the story) and 'Found In Translation' (where the tellers improvise and translate bilingually). Free-fall stories are all other stories that still fit the theme – a true story about someone else, a piece of fiction, be it a folk tale or a tall tale.
This is a night for oral storytelling, so no reading or notes allowed – just pure story! The night is for both tellers and listeners, for without good listeners; there would be no good stories! Great stories invite us in for a listen. They don't always have to be funny by any means (but they can be!). They draw from a wide emotional palette. We love to laugh, but also to cry, to growl, to gasp. We invite people to tell stories from the heart.
If you would like to tell a story (that fits our theme!) please email us to mothandbutterflystories@gmail.com by December 7th, and we will pop your name in the hat as a potential teller. Stories should be under 10 mins long.
The Moth and Butterfly Crew also travel to festivals and events throughout the country, and throughout the year. We are available for private and bespoke events.
Admission is €10 (advance sales) and booking is recommended. Tickets are non refundable. Ticket holders must arrive by 7.15 to secure a seat. After that we will release seats for walk ups. Moth & Butterfly 'Light The Fire' @ Rouge is an 18+ event.
We have a limited number of concession tickets available. If you need to request one of these, please email us directly to mothandbutterflystories@gmail.com (By December 7th) .