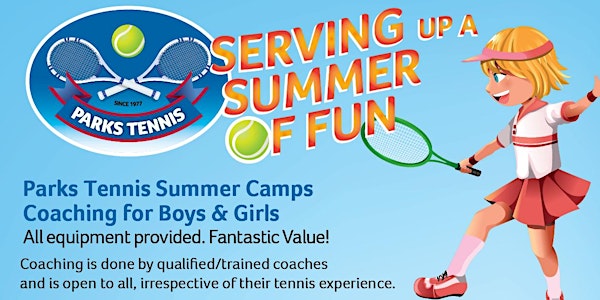 Mountmellick Tennis Club - Parks Tennis Summer Camp
Parks Tennis Summer Camp: 10am - 11:30am (6 - 10 years) 12pm - 2pm (11 - 16 years) Daily from Monday 18th July - Friday 22nd July R32HK76
When and where
Location
Mountmellick Tennis Club Irishtown Mountmellick R32 HK76 Ireland
About this event
Open to everyone, whether you've ever played Tennis or just want to try it out. Come along and have some fun, with an experienced Tennis Coach, on one of our three full size Tennis Courts in a safe and friendly environment. (Eircode: R32 HK76)
Registration is required so we have an idea of numbers for each session. If you've any questions etc., go to: Mountmellick Tennis Club on Facebook, and we'll respond to you as soon as possible. Thank you.
Photos may be taken at these classes for promotional use. If you have any issues with regards to this matter, Laois County Council Sports & Leisure contact number: 087 618 4404
LAOIS PARKS TENNIS - Summer 2022 PROGRAMME
TERMS AND CONDITIONS
Your email or mobile numbers will only be used for contact purposes or to inform you of future programmes and will not be passed on to others. All contacts from us will have an opt out facility. I/we, the parent(s)/guardian of the above, hereby give my/our consent to his/her participation in the Dublin Parks Tennis programme.
· I/we do hereby release Laois Parks Tennis, its officers, directors, employees, agents' volunteers, and sponsors from all and any liability no matter how arising with his/her attendance, play and transportation related thereto.
· I/We give permission for basic first aid to be administered by a coach where considered necessary or by a suitably qualified medical practitioner. If I cannot be contacted and the child requires emergency hospital treatment, I authorize a qualified medical practitioner to provide emergency treatment or medication
Signed…………………………………Parent/Guardian.
All information will be treated in confidence and in compliance with our legal obligations including GDPR.
Participants in this programme are expected to be well behaved and show respect for their Coaches. Laois Parks Tennis shall not be responsible for any child left unsupervised outside of allocated times. They also reserve the right to make date/venue changes if necessary. Parks Tennis shall not be held accountable should an activity be suspended or cancelled due to bad weather or a Covid-19 related issue or if new HSE guidelines are issued resulting in closure of activities. In such circumstances no refund will be given. Laois Parks
Tennis cannot be held liable or responsible for damages, injuries or loss of possessions.
· Our Child Protection Policy and Safety Statement and Data Protection Privacy Statement are available on www.parkstennis.com. In the case of children carrying an epipen, a parent or a designated adult, must stay for the class duration. This may also be necessary for children with special needs.
By registering online and by signing this document you are confirming that you agree to comply with the organisations "Parents Code of Conduct" and "Players Code of Conduct" on our website www.parkstennis.com and also the Conditions for Participation above as directed by HSE, Sport Ireland and Tennis Ireland.