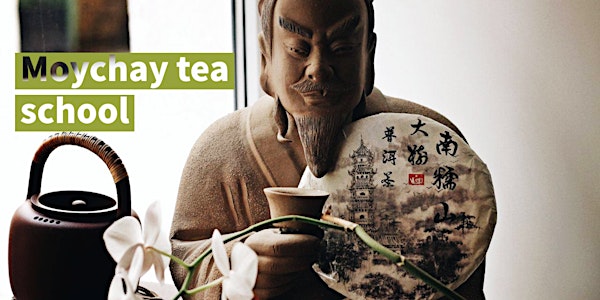 Moychay Tea School. Foundation [Start 8 October]
Moychay foundational tea course program is designed for 10 lessons, includes theoretical and practical classes.
When and where
Location
Moychay.nl Amsterdam Tea Culture Club 92H Rozengracht 1016 NH Amsterdam Netherlands
Refund Policy
Contact the organiser to request a refund.
Eventbrite's fee is nonrefundable.
About this event
Welcome to the foundational course of the Moychay tea school!
The Moychay Tea School is where we train our staff along with individuals who want an introduction to tea or want to improve their knowledge of tasting.
Our passionate Tea masters support the learning of those new to tea as well as connoisseurs in the most professional manner.
The Foundational course is ideal for all those working in tea companies, hotels, restaurants, coffee houses or those who have a general interest in tea. This foundation level course will build confidence when discussing, recommending, presenting and serving teas from around the world.
The course consists of 10 lessons which will be covered in an intense offline day classes in Amsterdam as well online. Some additional reading from materials provided prior to the course and a final exam.
The focus of the course is on the essentials of tea basics(production technology, geography, brewing), and learning about tea from different parts around the world.
During the onsite classes, participants are invited to practice tea tastings, tea recommendations from the menu, tea service, tea & food pairing suggestions and much more.
The course consists of 10 lessons on Saturday and will start on 8th October.
The dates:
8,15, 22, 29 October, 5,12, 19, 26 November, 3,10 December.
Each lesson is 2 hr and we will start at 12:00.
You can book separate lessons as well the whole course.
Tea school program
Session 1 (Anna 7 Olivier)- offline 8th October
"Introduction to Tea". Let's discover tea and its origin. Tea classification: geography and technology. Tea myths and facts.
Session 2 (Anna) - online 15th October
"Tea-taster". Olfactory card and the tea "Aroma wheel" from the perspective of a modern tea sommelier.
Choosing proper water for tea brewing. Dry tea-to-water ratios.
Session 3 (Olivier) - offline 22nd October
Practical workshop: Pin Cha brewing.
Session 4 (Anna ) - online 29th October
The biochemistry and health effects of different tea varieties, as well as tisanes in general. Herbal teas tasting.
Session 5 (Anna ) - offline 5th November
How to choose proper teaware for the brewing. Teaware materials: glass and ceramics; earthenware, stoneware, clay and porcelain.
Session 6 (Olivier) offline 12th November
Teaware. The Yixing clay teapot: shapes, usability with different teas, seasoning the teapot.
Session 7 Olivier (offline) 19th November
Green tea. Classification, features of tea production technology. Learning to brew using the pin cha method in a gaiwan.
Session 8 (Anna )- online 26th November
Red tea; History, classification, production features.
Black tea (Hei cha). Classification and technology of black tea production.
Puerh. Varieties of puerh, different approaches to preparation.
Session 9 (Olivier) - offline 3rd December
Wuyishan Oolongs. Guangdong Oolongs. Chao Cha. Taiwanese and South Fujian Oolongs. Types, production technologies, similarities and differences.
Brewing gong fu cha with Taiwanese double cups.
Session 10 (Anna and Olivier) practical and theoretical exam - 10th December
Written exam of 30 multiple choice questions as well as tea brewing test.
Upon completion of both written and practical tests, participants receive the certificate.
You can book separate lessons as well the whole course.