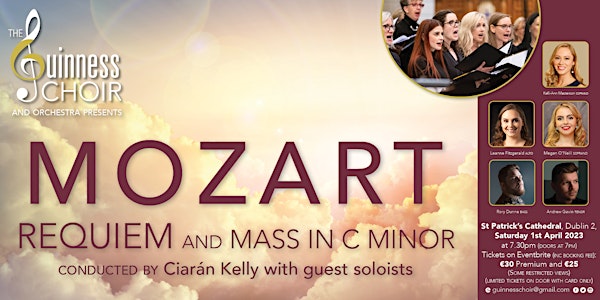 Mozart Requiem and Mass in C Minor
This is a rare opportunity to experience and enjoy Mozart's two great masterpieces - the Requiem and the Mass in C Minor.
Date and time
Sat, 1 Apr 2023 19:30 - 21:30 IST
Location
St Patrick's Cathedral St Patrick's Close DZ08 H6X3 Dublin 8 Ireland
About this event
The Requiem was Mozart's final work, composed in the short period before his death in December 1791. He was only 35. Though completed by others in his circle, and as with the Mass in C Minor, which he had mostly written by the mid 1780s, Mozart captures the drama and visceral emotion of the liturgy.
Though much scholarly debate continues as to who completed the pieces, there is no escaping the magnificence and virtuosic demands of both, such that generations of artists have been inspired by these great masterpieces ever since. Don't miss the dramatic and hopeful beauty that this opportunity presents.
The Guinness choir and its professional Orchestra will be joined by our wonderful soloists
Kelli-Ann Masterson, Soprano; Megan O'Neill, Soprano; Leanne Fitzgerald, Alto;
Andrew Gavin, Tenor and Rory Dunne, Bass.
About the organiser
The Guinness Choir was established in 1951 by the self-taught music enthusiast Victor Leeson who was a brewery employee at the time and who led the choir until 1984. The
choir has been at the forefront of choral music in Ireland for over 70 years, performing the great choral works from Renaissance to contemporary. Ciarán Kelly is the choir's Music
Director and under his guidance, the choir will continue to present wonderful concerts, maintain its high standards, working with professional orchestras, leading soloists and
continuing its support of emerging Irish composers and soloists. If you would like to find out more information, please visit our website www.guinnesschoir.org