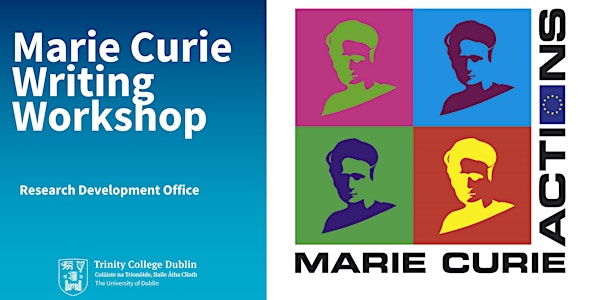 MSCA PF Writing Workshop
A writing workshop for applicants to the MSCA Postdoctoral Fellowships planning to be hosted at Trinity College Dublin.
About this event
An interactive writing workshop to assist MSCA PF applicants with the first draft of their proposal.
Date: 14th June 2022
Time: 11.00-13:00 (Irish time)
Where: Zoom (link will be sent to all registered participants before the event)
Please note, this event is for applicants planning to be hosted at Trinity College Dublin - those intending to be hosted elsewhere should contact the Research Support Staff at their chosen host institution for information on the supports available.
Agenda:
Part 1: Presentation - PF application tips
Part 2: Interactive workshop
Career Development brainstorming
Abstract annotation
Dissemination, Exploitation and Communication plan
Section 1.1 planning sprint
Please indicate at least 2 weeks before the event date if you have any access requirements, such as ISL/English interpreting, so that we can facilitate you in attending this event.