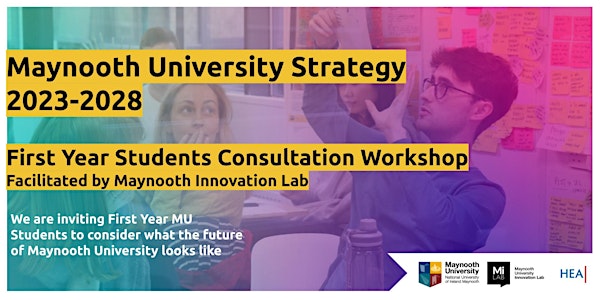 MU Strategic Plan 2023 - 2028 First Year Student Workshop
MU Strategic Plan 2023 - 2028 1st Year Student Workshops
When and where
Location
Rye Hall Mi Lab Maynooth University Maynooth Ireland
About this event
In this fast paced, hands-on workshop, Mi:Lab staff will facilitate students from across the MU undergraduate and postgraduate community to express their aspirations for the future of Maynooth University. This workshop will focus solely on the opinions of the MU first year students. You will have the chance to have your voice and opinions heard as Maynooth continues to develop its new strategic plan.
Consent forms will be available to complete on the day before the workshop begins. You will have the chance to ask the Mi:Lab staff any questions about the process before you sign the consent form. Also, you are under absolutely no obligation to participate in this workshop, and withdrawal from the workshop will not affect your relationship with any member of MU staff in any way.
Remuneration: All student participants will receive a €40 One For All gift voucher, a €10 lunch voucher and a coffee/tea voucher. Also, you will be given a nice bag of Mi:Lab goodies, which we hope you will enjoy!