Mum Talks Baby Club - A talk by a baby expert every Tuesday morning for 6 weeks, kindly supported by Primark
About this event
Memberships all sold out but it is still possible to purchase tickets for individual talks. Tickets cost €10 per event plus Eventbrite fee, all the details can be found here.
___________________________________________________________________________________________
Starting on the 18th January, over the course of 6 weeks every Tuesday morning at 10am an expert will join us live on Zoom to answer all your questions and talk through tips and advice to support you and your baby. We are thrilled to have the following top experts in their fields join us:
18th January Weaning Expert - Caroline O'Connor (Solid Start)
25th January Lactation Consultant - Nicola O'Byrne (Nicola_LactationConsultant)
1st February Sleep Expert - Lucy Wolfe (LucyWolfeSleep)
8th February Peadiatric Nurse - Lynda Quigley (Nurselstyler)
15th February Minding Mum Expert - Lorna Lyons (BumpandBeyondWellness)
22nd February First Aid Expert - Siobhan Butler (First Aid For Everyone)
By joining the Mum Talks Baby Club you will have access to each talk and you will receive a luxury gift bag full of baby essentials from the Primark Baby Range. The talk will be made available to you for one week after the event in case you miss it or want to watch it again.
Details on how to gain access to each Mum Talks Baby Club talk via Zoom and how to claim your Primark Gift bag will be sent out in your confirmation email once you purchase your membership.
If you choose not to become a member but still want to attend the talks, there is an option to purchase tickets to single events only. Tickets cost €10 per event plus Eventbrite fee here.

Taking you from the excitement of packing your first hospital bag to your baby's precious first steps, the Primark baby collection is intended to make the life of mums and dads easier, because we know it's the little things that make a big difference. We've created a one-stop shop in store where you can easily access affordable baby must-haves, allowing you to get back to playing with and cuddling your little ones – every second counts! Fill your bundle up with our organic cotton bodysuits, rompers and snuggly sleepsuits. We also have a selection of baby basics that will keep your mini me cosy, comfortable and picture ready in gorgeous designs. New for this season you can create the dream nursery filled with cute storage, cosy baby mats and wooden toys for your little one to enjoy. Primark baby is available in all Primark stores with selected nursery pieces in Mary Street.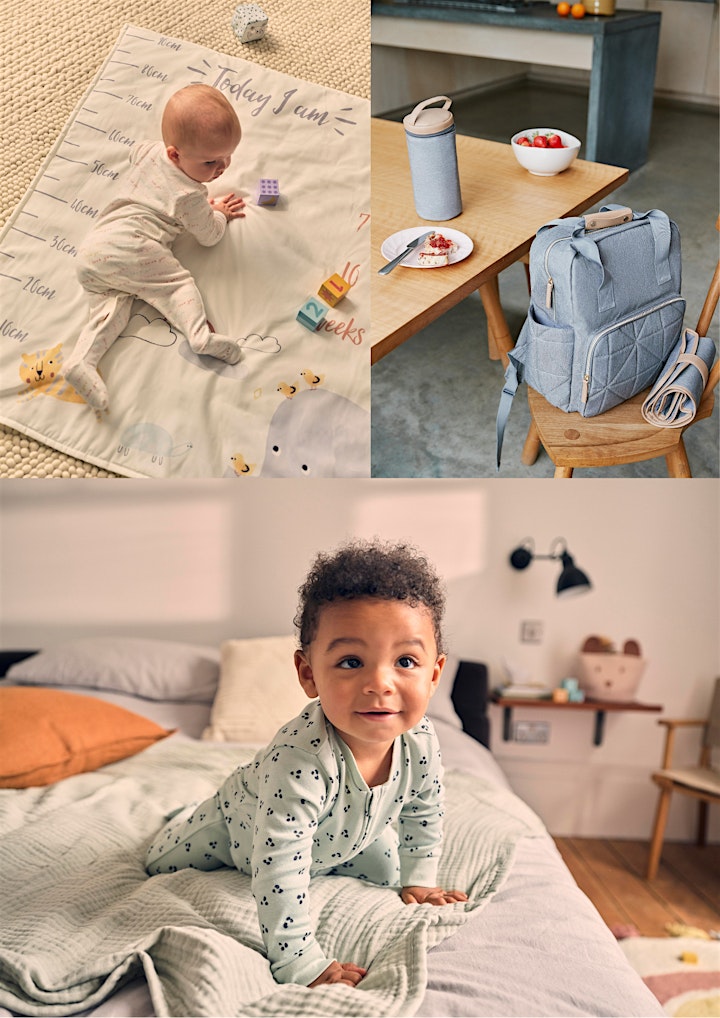 T&Cs
When registering for a ticket to attend you will be added to Mum Talks newsletter mailing list, please email hello@mumtalks.ie if you would like to be removed.
Tickets are non-transferable and non-refundable.
We may add, withdraw or substitute speakers without prior notice.
We may use image or likeness of attendees in any live or recorded video display, photograph or picture.
We may postpone, cancel, interrupt or stop the event due to any causes beyond our reasonable control.
Organiser of Mum Talks Baby Club (0-6mths)
Mum Talks are monthly meet–ups for women looking to feel inspired, learn something new and make new friends. Babies are welcome too! Tea, coffee and delicious fresh fruit and pastries will be available throughout the morning. You will also get to meet loads of amazing mums, bonus!
Mum Talks believe strongly that being a mum should not stop you reaching your career goals or enjoying your life passions, both of which are vital for self-care but can sometimes feel forgotten about or may need to be re-evaluated when you have children.
Mum Talks host meet-ups in a friendly and comfortable environment and invite 3 inspiring speakers to share their story and the tools they use to help navigate this exciting (and sometimes daunting!) time. Babies are more than welcome to join while you learn and feel empowered.
Mum Talks aim is to give you confidence and empower you as you get ready to return to work after maternity leave; or are thinking of starting your own business; or are adapting to life as a stay at home mum.
If you have any questions or need information on locating the venue or just want to give us some feedback please get in touch at hello@mumtalks.ie We'd love to hear from you.