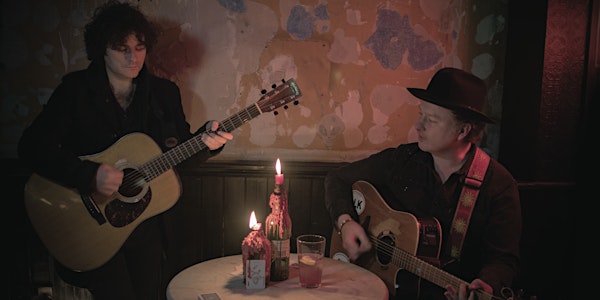 Mundy and Paddy Casey
Very special double headline show with Mundy and Paddy Casey.
When and where
Location
The White Horse The White Horse West Village, Ballincollig P31 YA40 Cork Ireland
Refund Policy
Refunds up to 1 day before event
About this event
MUNDY
Mundy was born Edmond Enright in the rural town of Birr, County Offaly. In 1993, at the age of 18 Mundy moved to Dublin to take his place on the energetic busking circuit. It was during this period and in the midst of heartbreak that Mundy penned some of his greatest hits including, 'Gin & Tonic Sky' & 'Life's A Cinch'. These stirring tracks quickly secured Mundy a place on the roster of Sony's Epic records as well as a publishing deal with Warner Chappell Music. Mundy's first album 'Jelly Legs' was released in October 1996 to critical acclaim and went on to sell 50,000 copies. However it was his visceral debut single 'To You I Bestow' that garnered most attention after it was licensed to appear on the soundtrack to Baz Luhrmann's adaptation of Shakespeare's 'Romeo & Juliet', this bestselling soundtrack went on to sell 11 million copies and introduced Mundy to the world.
Mundy has since gone on to release a further eight albums creating his own flavour of acoustic, folk-based pop/rock through his own record label 'Camcor Records' which he set up in 2000.
His album Raining Down Arrows went straight in to the Irish Charts at number 1, he has enjoyed gold and multi-platinum record sales and has picked up a number of awards including the Meteor Music award for 'Best Male' and 'Most Downloaded Song' 2 years running for his rousing rendition of 'Galway Girl' featuring Irish traditional musician Sharon Shannon.
Mundy's music has allowed him travel the world supporting some of the greats; Bob Dylan,
Neil Young, Lucinda Williams, Emmylou Harris, R.E.M, Oasis, White Stripes, and the Pogues to name a few. Mundy was invited to perform for perhaps his most prestigious audience to date, in the White House for president Barrack Obama as part of their St. Patricks Day celebrations.
Mundy certainly has an impressive CV and he has been touring extensively in Ireland, UK, Europe, North America, Australia, and Asia.
https://www.facebook.com/Mundyirl
https://twitter.com/mundyirl
PADDY CASEY
Paddy released his brand new single 'Won't Take Much' alongside announcing the release of his fifth album 'Turn This Ship Around', a double album.
'Won't Take Much', the latest release from the album is a bouncy, uplifting, guitar-driven song bursting with brass and strings. Featuring on the first part of the double album 'Turn This Ship Around', the single reflects the upbeat, electric, synth and guitar driven side to the album, while the second part embodies a more laid-back, acoustic vibe.
Speaking of the single, Paddy Casey said: "'Won't Take Much' is an independent production, recorded and produced in my own home studio. To capture the energy of a new song 'coming to life' the single was written and recorded in the same day with friends and bandmates being called on later to add strings and horns."
Having been at the forefront of the Irish music scene since his multi platinum selling debut album 'Amen (So Be It)', Paddy Casey's career has taken him all over the globe touring with acts like The Pretenders, R.E.M, Ian Brown, Blondie and Tracy Chapman to name a few. Closer to home he has played all over Ireland, including a sold out Dublin Castle, RDS and a record-breaking week long run in The Olympia Theatre, alongside special guest spots with U2, Pearl Jam, Bob Dylan and more.
Paddy Casey's hugely successful debut album 'Amen (So Be It) achieved many international highlights including tracks being featured in hit television shows such as 'Dawson's Creek' and 'Roswell' alongside extensive American and European tours. Further establishing himself as one of the country's most successful artists, his second album 'Living' went on to become one of the biggest ever selling albums in Ireland (approximately 15 times platinum).
This was followed by the release of 'Addicted To Company, Part 1', with this album seeing Paddy Casey continue to tour across America, performing on The Late Show with David Letterman, securing a week-long slot on MTV and even managing to have drinks with Beyonce and Jay Z along the way. After the release of this album Paddy Casey decided that it was time to part ways with his record label and go independent in order to let himself and his music veer off in any direction the wind carried them, resulting in his first release 'The Secret Life Of' - a resounding success with the album reaching platinum status.
'Won't Take Much' the brand new single from Paddy Casey is set for release across all digital platforms with 'Turn This Ship Around' .