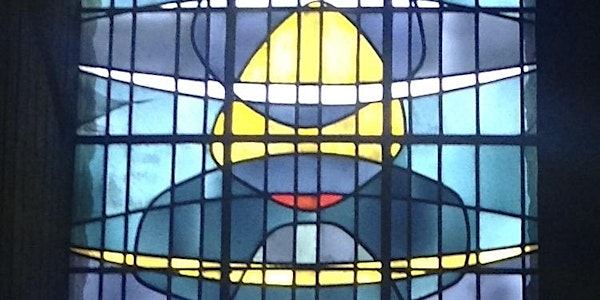 Murphy-Devitt Studios presented by Reiltín Murphy
An overview of Murphy-Devitt Studios, Dublin, whose work spanned 1955-2004 in site specific abstract and figurative glass
Refund Policy
Contact the organiser to request a refund.
About this event
As Murphy-Devitt Studios, Dublin, this small group of artists and craftsmen produced stained glass from 1958 to 1978. Working together more loosely outside of these dates their work spans from 1955 to 2004. The Gazetteer of Irish Stained Glass lists their work under the artists' names: Johnny Murphy, Róisín Dowd Murphy and others but in fact the Studio preferred to produce their work as a team and rarely put individual names outside of the Murphy-Devitt Studios date of 1958-1978.
Johnny Murphy and Dessie (John A) Devitt met at the Harry Clarke Studios in the early 1950s. Johnny was an artist employed by Clarkes as a glass painter and Dessie was a master craftsman. They set up their own studio just in time to catch the church building boom of the 1960s. Murphy-Devitt Studios produced work for most counties in Ireland, for England, and abroad.
Johnny was an innovative designer who produced both figurative and abstract work and who got the very best from the other artists who were employed at the Studio from time to time: as a lecturer in Glass at the National College of Art and Design he chose the most talented students to work in the Studio under his leadership. Please see www.murphydevittstudios.com.
About the Presenter:
Reiltín Murphy is a contributor to the Gazetteer of Irish Stained Glass having researched the work of Murphy-Devitt Studios with Anthony Devitt: Johnny Murphy and Dessie Devitt were their fathers. Having grown up in the Studio, Reiltín assisted with many of the windows and designed several in association with Johnny Murphy. Please see www.reiltinmurphy.ie for more about Reiltín.
Glass Society of Ireland
Organiser of The Sacred and the Secular: the Work of George Walsh
The Glass Society of Ireland is made up of people whose interests or professions significantly relate to the specific material of glass. Drawing from diverse creative and enterprising fields including art, design, craft, research, collecting and the historical context, we are a volunteer-run organisation whose interest in glass provides us with a mutual cause for conversation.
It is the primary objective of the Glass Society of Ireland to continue to support established practitioners in Glass whilst fostering new talent. We also aim to create opportunities to communicate with each other and to engage with new audiences. This is achieved through a number of platforms: exhibition-making, holding events such as conferences, workshops and public talks, networking through social media and information distribution through our website, blog and monthly e-bulletin. Through these activities, professional connections are established both nationally and internationally.