A vocal workshop with Ireland's premiere vocal band Ardú
About this event
A vocal workshop with Ireland's premiere vocal band Ardú, exploring how to get creative with your voice! Learn how to arrange your own a cappella song, sing together as an ensemble and even create drum beats using vocal percussion and body percussion! This workshop is for boys and girls aged 9-12 and will be an exciting introduction to singing together and creating original music. Soundscapes, rhythm games and instrumental emulation are all included. The day will culminate in a short performance by Ardú alongside brand new groups created on the day by all of our participants.
This work is supported by Dún Laoghaire-Rathdown County Council and funded by Creative Ireland as part of Cruinniú na nÓg 2020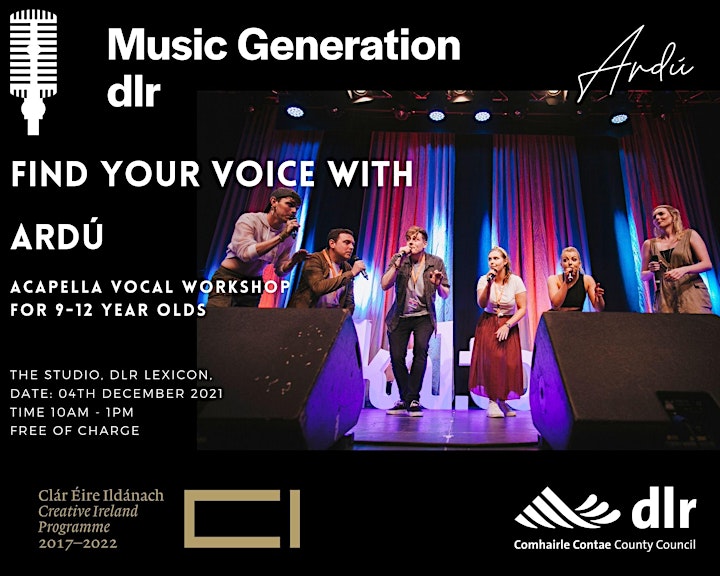 Organiser of Music Generation dlr invite you to - Find Your Voice with Ardú!
In September 2017, Music Generation dlr was selected for participation in Music Generation, Ireland's national music education programme initiated by Music Network and co-funded by U2, The Ireland Funds and the Department of Education and Skills and Local Music Education Partnerships. Locally, Music Generation DLR is managed by DLR Music Education Partnership (MEP), led by DLR County Council in partnership with Dublin and Dún Laoghaire Education and Training Board, TUSLA, Southside Partnership DLR, Blackrock Education Centre, IADT, UCD and Crosscare.