Music Generation dlr and Cruinniú na nÓg invite you to join us for Musical Playtime: parent and toddler class!
About this event
Babies and toddlers love music, but as parents we don't always know how to use music as a tool for creativity, learning and fun. Join Filipa and learn games and songs that include great lessons but an overall sharing of the love of music with your baby.
This work is supported by Dún Laoghaire-Rathdown County Council and funded by Creative Ireland as part of Cruinniú na nÓg 2021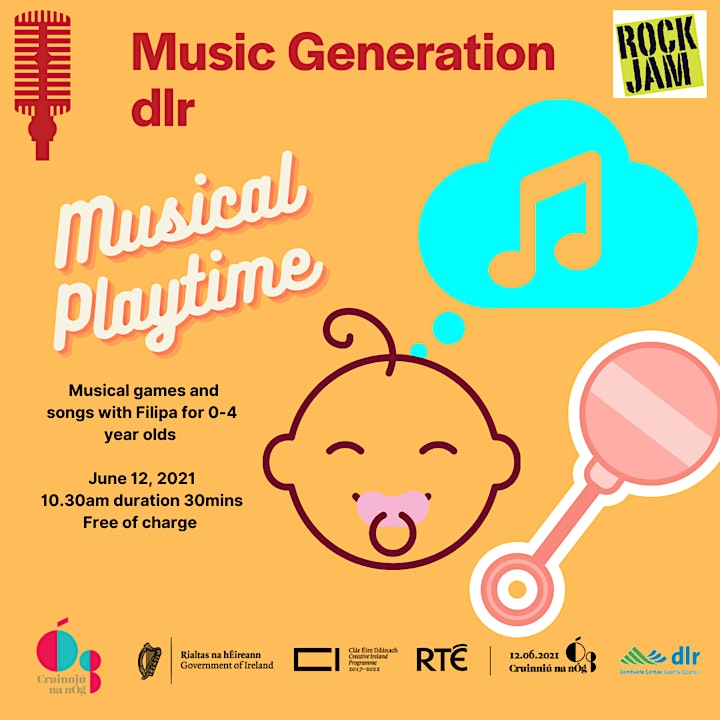 Organiser of Music Generation dlr Musical Playtime: parent and toddler
In September 2017, Music Generation dlr was selected for participation in Music Generation, Ireland's national music education programme initiated by Music Network and co-funded by U2, The Ireland Funds and the Department of Education and Skills and Local Music Education Partnerships. Locally, Music Generation DLR is managed by DLR Music Education Partnership (MEP), led by DLR County Council in partnership with Dublin and Dún Laoghaire Education and Training Board, TUSLA, Southside Partnership DLR, Blackrock Education Centre, IADT, UCD and Crosscare.