A full day of experimentation, exploration and discovery with Crash Ensemble for String Instrumentalists aged 13-18 - All levels welcome
About this event
A full day of experimentation, exploration and discovery with Crash Ensemble. The morning session will be a workshop focusing on expressing, creating, developing and performing new compositions. Young musicians will invent and explore new sounds on their instruments whilst developing their own unique style of communication through music.
The afternoon session will focus on creating a collaborative work, playing with structure, textures, sounds and instrumentation for an informal performance for family and friends which will be presented at the end of the day.
String Instrumentalists ages 13-18 (violin/viola/cello/double bass/guitar)
All Levels Welcome!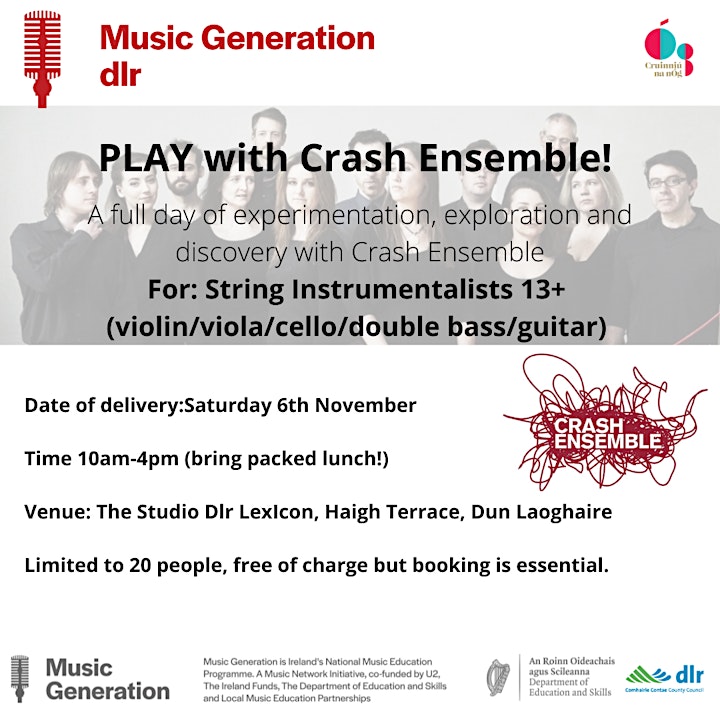 Organiser of Music Generation dlr presents - PLAY with Crash Ensemble
In September 2017, Music Generation dlr was selected for participation in Music Generation, Ireland's national music education programme initiated by Music Network and co-funded by U2, The Ireland Funds and the Department of Education and Skills and Local Music Education Partnerships. Locally, Music Generation DLR is managed by DLR Music Education Partnership (MEP), led by DLR County Council in partnership with Dublin and Dún Laoghaire Education and Training Board, TUSLA, Southside Partnership DLR, Blackrock Education Centre, IADT, UCD and Crosscare.