Ukulele Licence Cruinniú na nÓg Play Along Special
About this event
Join Aidan from Music Generation dlr and Rock Jams hugely successful Ukulele Licence programme.
Grab your ukulele and join Aidan for a Cruinniú na nÓg special. Aidan has broadcast over 40 episodes of Ukulele Licence play along over the last year. This session is for children who have learned a few basic chords and want to practice in a fun and modern way. The session features warm ups, on screen graphics, backing tracks and easy to follow ukulele tab.
This work is supported by Dún Laoghaire-Rathdown County Council and funded by Creative Ireland as part of Cruinniú na nÓg 2021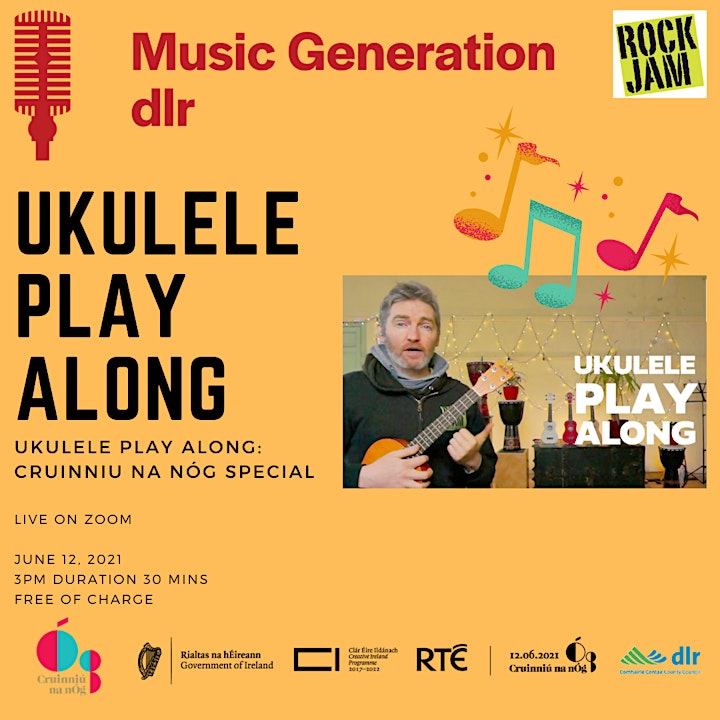 Organiser of Music Generation dlr Ukulele Licence: Play Along!
In September 2017, Music Generation dlr was selected for participation in Music Generation, Ireland's national music education programme initiated by Music Network and co-funded by U2, The Ireland Funds and the Department of Education and Skills and Local Music Education Partnerships. Locally, Music Generation DLR is managed by DLR Music Education Partnership (MEP), led by DLR County Council in partnership with Dublin and Dún Laoghaire Education and Training Board, TUSLA, Southside Partnership DLR, Blackrock Education Centre, IADT, UCD and Crosscare.