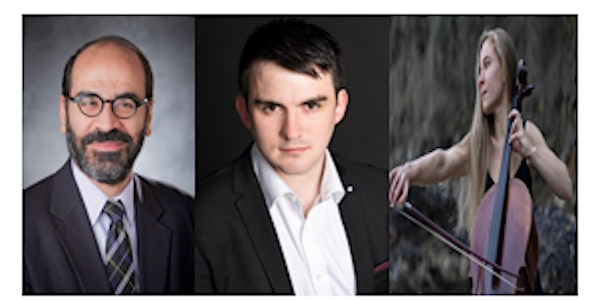 Musical Physics 3.0 Ehsan Samei , Bryan Mullen, Katerina Speranskaya
Relax in the church at a lunchtime concert with a collection of duos and trios of Flute, Piano, and Cello by Bach, Brahms, Piazzolla
When and where
Location
DCU St. Patrick's Campus Drumcondra Road Upper Dublin 9 Ireland
About this event
Musical Physics 3.0, Ehsan Samei (Flute) Byran Mullan, Katerina Speranskaya
August 19, 2022, 12:30 PM
This noon concert includes a collection of duos and trios of Flute, Piano, and Cello by Bach, Brahms, Piazzolla.
Ehsan Samei is an imaging scientist, medical physicist, and Reed and Martha Rice Distinguished Professor of Radiology at Duke University. Prior to his career in medical physics, he was a professionally-trained classical musician. He performed widely in underground concerts in Tehran, where he premiered works of contemporary Persian composers, Mehran Rouhani, Shaheen Farhat, and Shahrokh Khahjenouri. He founded Nyquist Music in 2007, and seeks to foster community around the pursuit of truth and beauty in art and science. Nyquist Music is named after the Nyquist theorem (of Swedish engineer Henry Nyquist), which serves as a metaphor for the pursuit of excellence in the face of the scientific and artistic limitations that keep us from capturing the ideal.
Bryan Mullen has been performing as a pianist for the last 15 years. He is known for performing with various musical theatre, choral, and vintage productions and has worked in both Europe and the USA as an accompanist and music director. Bryan is a graduate of Newpark School of Music where he studied in Jazz Performance with a focus on jazz big band arranging & piano performance. Recent Performances include Les MisŽrables (Bord G‡is), Wedding Singer (KMDS) and Chess (KMS). Bryan specialises in music and theatre technology, and is currently completing a HDip in Computing & Software Development.
Katerina Speranskaya is a pianist and cellist, drawn to all things musical with a special interest in piano accompaniment. She holds a Masters Degree in Piano Accompaniment from TUD, and has performed across the country accompanying various music festivals and operas. She has performed for President Michael D. Higgins and has been the assistant accompanist for the International Conductors School in Limerick, amongst other work. She has won prizes at numerous national competitions, including Feis Ceoil