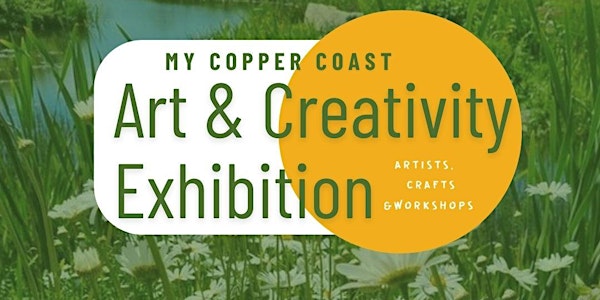 My Copper Coast - Art & Creativity Exhibition
My Copper Coast - Art & Creativity exhibition features artists from across the Copper Coast area of Waterford
When and where
Location
Dunhill Community Hall Dunhill Village Dunhill X91 Y389 Co Waterford Ireland
About this event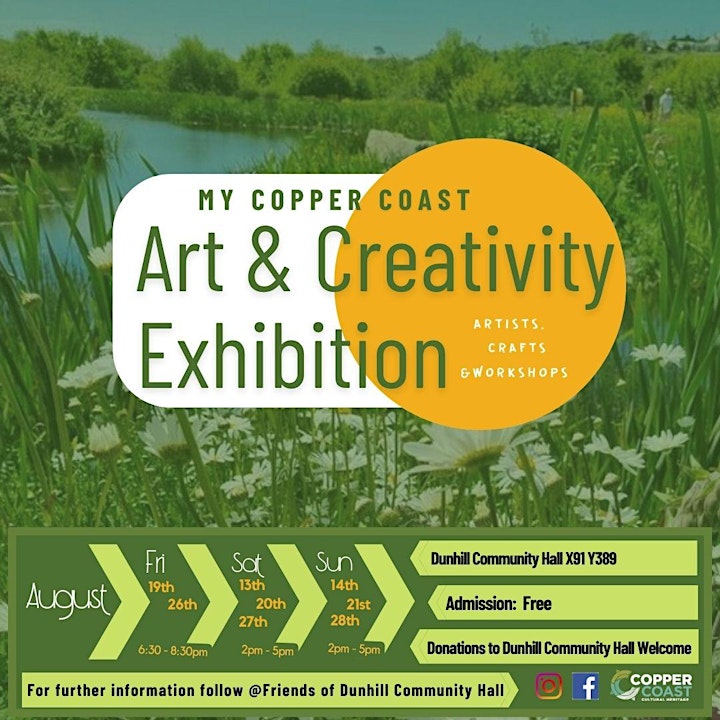 The exhibition features artists living on or connected to Waterford's Copper Coast with work in oils, watercolours, media generated, stone, pottery, wood and material. Artists featured include:
Mella O'Callaghan Lives by the sea on the Copper Coast in Stradbally. Her initial profession was in horticulture, and this interest in nature is reflected in her artwork.
Eimear Power 19 year old 'artist-in-progress' is aiming to study Visual Arts in SETU in the Autumn, seeks inspiration from nature and the colourful busy world around her.
Aidan Coffey From Ballylaneen, with an appreciation of the Irish rural landscape and he creates scenes from places he has frequented over the years using natural colours with oils on canvas. The paintings featured in the exhibition are all of the Copper Coast area.
Sheila Dunne Originally from Bonmahon, her inspiration for creating artwork from natural beach pebbles comes from her time spent on the beautiful beaches around the Copper Coast. Using the distinctive characteristics of each pebble to create unique scenes.
Ann Murphy A visual artist based in Dublin with a background in clinical psychology and psychoanalysis, she spends time in the Annestown/Dunhill area of the Copper Coast and has been captivated by the Anne Valley Walk which has become a source of inspiration.
Pamela Silin-Palmer Originally from USA now living in Boatstrand, Pamela founded Faunus Studio of Decorative Arts in 1976 in Berkeley California she has created one-of-a-kind painted furniture, murals, ceramics, rugs and fabrics marketed by top designer showrooms in US. In addition Pamela illustrates childrens books for Rizzoli (This Nightingale and the Wind) and Random House (Bunny and the Beast, Sleeping Bunny and Unicorn Wings) as well as a range of trademarked greeting cards and paper production for Leanin' Tree and Sunrise Greetings.
John Hayes Professional wood carver, living in Fenor, he creates bespoke handcrafted sculpture using a chainsaw. His work can be seen in several landmark sites across Waterford including the Viking Triangle and Fenor Church.
Vivien O'Malley A ceramic artist feel in love with pottery when attending LSAD. She has worked with potters across Ireland and attended Dccoi's Ceramics Skills and Design Course in Thomastown. Vivien has set up her studio in Dunhill Eco-park.
Sinead Violet A visual artist from Kilrossanty, she studied visual arts in WIT completing her degree in 2012. Her work ranges from painting, murals, drawings and since 2020 felting.
Patrick Palmer Born and raised in Waterford he attending NCAD. Having worked in advertising in Dublin for a number of years he relocated to San Francisco where he worked with Pacific Lithograph for Bill Graham Present and Winterland Productions creating art for iconic posters, tour books and merchandise for artists like Jimi Hendrix, Led Zeppelin, The Rolling Stones, Madonna and more. Now living in Boatstrand he uses his surroundings as inspiration and captures scenes from the Irish countryside.
Cailean Finn A multi-disciplinary artist and creative technologist from Dunhill, his practice critically engages with a wide range of digital technologies, exposing underlying structures, hidden processes and our relationship with technology.
Anna Moore A graduate of the Crawford College of Art she worked in art and community development in Ireland and Namibia. In 2010 she developed a rare debilitating autoimmune disease, following which her work moved from the outer desert landscape to the inner landscape of living with illness. As her recovery progressed she beach-combed and incorporated the coastline debris, both natural and man-made, into her work.
Victoria Flanagan Creator and produce of Copper Coast Natural Skincare and Home Fragrances. Living in Dunhill she creates handcrafted products that are SLS/SLES free and frees from artificial fragrances and colours.
The free exhibition has been curated by volunteers and is open to the public on Fri 19 & 26th August 18:00-20:00, Sat 20th and 27th August 14:00-17:00, Sun 21st and 28th August 14:00-17:00.
Visitors to the exhibition may like to include a visit to the Anne Valley Walk with the Happy Grind Coffee Wagon, Harneys Pub both in Dunhill village or Ní Bhrian Café in nearby Fenor village which serves breakfast, lunch and dinner.