UL students! Join us in the Millstream Common Room to talk sex, stigma, and taking the morning-after pill
About this event
Her.ie have teamed up with the morning-after pill brand ellaOne to set up a panel and talk about it with you guys. For #MyMorningAfter in association with ellaOne, our very own Niamh Maher from Girls With Goals will be heading to UL's Millstream Common Room on Thursday, October 24th, at 6pm, to ask why the morning-after pill is such a taboo topic and what we can do about it.
Niamh will be joined on the panel by author Stefanie Preissner, model Shauna Lindsay and blogger Niamh Webb O'Rourke who will be talking about their own experiences of and thoughts on the morning-after pill.
So much has happened in the past few years in terms of women's voices being heard but there's still a lot more progress to be made. So come see our panel and join in the talk at the Millstream Common Room in UL at 6pm this October 24 for a bit of banter, some great discussion, and (of course) some nice little treats to munch on too.
Register for the event here (it's free!) and we'll see you there, ladies!
Brought to you by ellaOne.
ellaOne is an emergency contraceptive pill that is available from pharmacies without a prescription. No other morning-after pill is more effective at preventing pregnancy after unprotected sex.ellaOne consists of one film-coated tablet which should be taken as soon as possible, but no later than 5 days (120 hours) after unprotected sex or contraceptive failure. Each film-coated tablet of ellaOne contains 30 mg ulipristal acetate. Always read the label.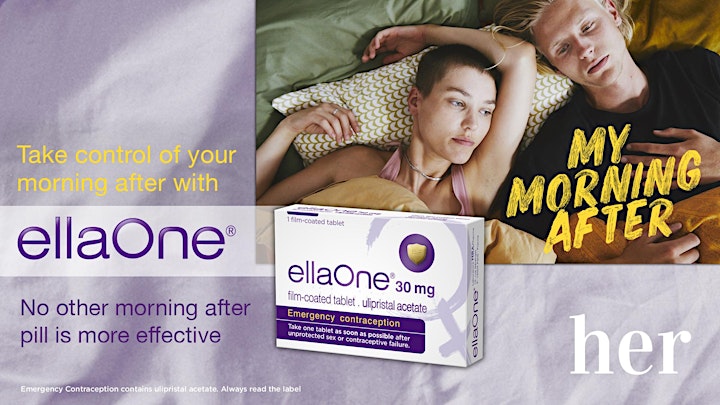 Organiser of #MyMorningAfter - Stefanie Preissner, Shauna Lindsay & Niamh Webb O'Rourke