Description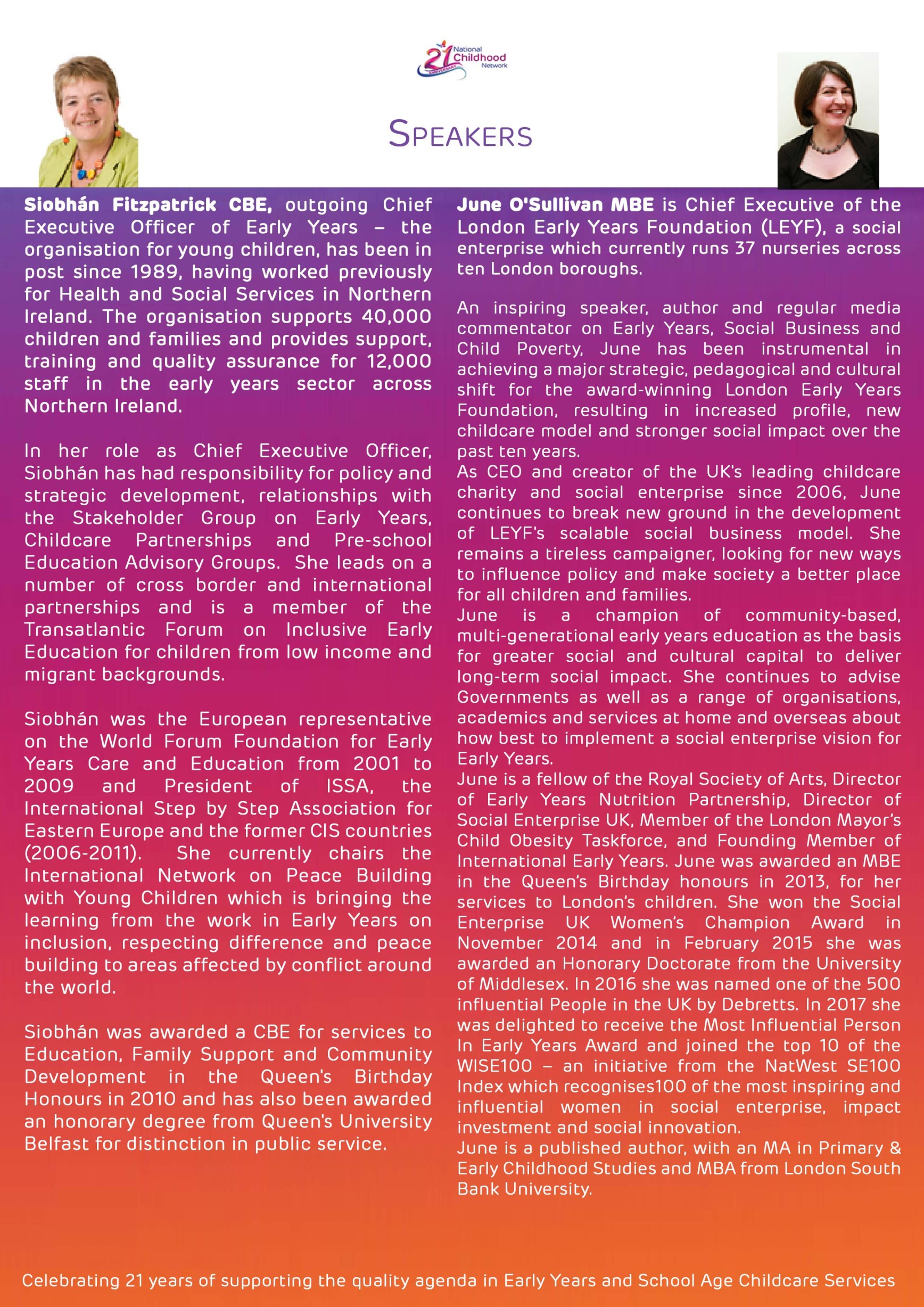 Background to the NCN convention
Celebrating 21 years of supporting the development of early years and school age childcare services on the island of Ireland. National Childhood Network (NCN) has witnessed phenomenal growth in service development and in the supporting infrastructure. The convention provides an opportunity for a diverse range of stakeholders to come together to consider and imagine what the future of childhood services should look like at a time of significant government policy development.
Given the many challenges and increasing responsibilities facing those involved directly in delivery of services, what should the future of services look like? What would world class services look like? What would be the essential conditions required for their delivery?

What are the building blocks established over the last 21 years that can be built on for the future? What are the key challenges, "the wicked issues", that must be addressed before Ireland as a country, secures the delivery of world class services for all children and families?

From research and experience we know that the staffing of services is central to their quality. Yet conditions for staffing services are currently inadequate. What is your view of the current situation? What changes would you like to see happening?

Given that the workforce is the essential factor in ensuring the quality of experiences for children especially in relation to the promotion of their happiness and well-being, how do we secure workforce wellness within settings as well as expertise? What can we learn from developments outside Ireland that could be used here?

As the needs of children, parents, the early years and school age childcare workforce increases, so too does the need for enhanced government policy development and investment from tax payers. Are we making the best use of current investment? Is Ireland's current system of service delivery fit for purpose or is it in need of radical reform? What are the gaps that must be addressed to secure equality of access to quality services for all children and families? What experiences and examples of high quality provision in Ireland could be replicated everywhere.

In your current role are YOU open to hearing about others experiences / views and willing to use them to inform your opinion and action?

If the necessary conditions were in place could we imagine and then collectively secure a bright new future for the delivery of childhood services in Ireland with children at the heart of service provision?
Prior to the conference, NCN invites all interested stakeholders to consider these questions and to send us your views. Please use the following link to participate in our short questionnaire.
Your responses will inform the conversations at the convention and the proposals agreed on the day.
Looking forward to hearing from you and to seeing you in Dublin Castle on the 8th June!
With kind regards
Denise Mc Cormilla
CEO
National Childhood Network