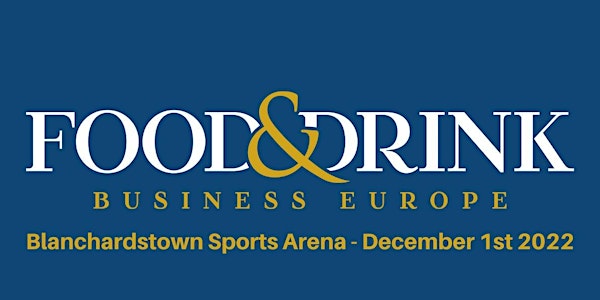 National Food & Drink Business Conference and Exhibition 2022
National Food & Drink Business Conference and Exhibition 2022
When and where
Location
Sport Ireland: National Indoor Arena Snugborough Road Dublin Ireland
About this event
Ireland's premier trade event for the food and drink processing, retail, food service and hospitality sectors – is being held at the Sports Ireland Campus, Blanchardstown, Dublin on the 1st December 2022. The event will highlight the key trends and challenges facing the industry, while also offering practical solutions, as well as showcasing the latest innovations, developments in best practice and new technological solutions available.
Now in its seventh year, this must attend annual event for food and beverage professionals is expected to attract over 3,000 visitors from across Ireland to participate in a range of conferences, seminars and panel discussions highlighting the most pressing issues facing the industry.
With a turnover of about €28 billion, food and drink manufacturing is Ireland's most important indigenous industry. Despite a year of unprecedented global volatility, involving political uncertainty, extreme weather events and continuing currency fluctuations impacting competitiveness, the value of Irish food, drink and horticulture exports reached €12.1 billion in 2018, down just 4% from a record high in 2017, according to Bord Bia's Export Performance and Prospects 2018/2019 report.
The Irish foodservice market is also proving resilient, having grown by 6.1% to reach a value of €8.2 billion in 2018.
However, although the economic fundamentals in the long-term remain bright, a cloud of uncertainty resulting from the 'Brexit' Referendum in the UK poses major challenges for the entire Irish food and drink industry in the short-term, especially given its export-orientated nature.
The National Food & Drink Business Conference and Exhibition 2022 encompasses all major sectors of the Irish food and drink industry – dairy, meat, seafood, poultry, bakery, confectionery, convenience foods, fresh produce, snacks, brewing, distilling, soft drinks and bottled water, grocery retailing, food service, craft brewing and distilling, convenience and forecourt retail.
Conference and Exhibition
An impressive list of keynote speakers has been assembled to cover topics of interest, to highlight challenges facing the industry and to suggest practical solutions. The Conference speakers have been carefully selected from well-respected figures within the food and drink industry and its associated supply chain, and from academia and State organisations, who all have proven expertise in their respective fields.
The comprehensive Conference programme will be accompanied by an extensive exhibition of the latest equipment and technology available along with new to market food and beverage products. More than 200 exhibitors will showcase a wide variety of products and services including: Ingredients, Process Engineering, Packaging Equipment & Materials, Information Technology, Logistics, Materials Handling, Food Safety, Training & Education, Energy, Water, Waste Management, and Sustainable Technology.
Co-Located and Complementary Events
A distinctive feature of the National Food & Drink Business Europe Conference & Exhibition is that it incorporates several complementary events – all under one roof – in order to cover the full industrial spectrum. The co-located events are:
– The Future Food Factory Expo
– The Food Retail & Hospitality Expo
– The Pub & Off Licence Expo
– The Forecourt and Convenience Retail Expo
– The annual Craft Beer & Spirits Summit
– The Artisan Fine Foods Expo
– The Import/Export Expo
– The Brexit Food Summit
Visitors are free to move between the different events.
The National Food & Drink Business Europe Conference & Exhibition 2019 with its co-located events provides a unique forum where food and beverage processors, ingredients manufacturers, food retailers, food service operators and hospitality providers can interact with relevant State and regulatory bodies, academia, and key suppliers within the full supply chain from farm to fork.
By gathering over 3,000 delegates in the same venue, the organiser – Premier Publishing & Events – intends to create an environment that is conducive to networking and co-operation.
Irish Food and Drink Industry Key Statistics:
– 250,000 jobs linked to the agri-food sector
– Supplies the majority of produce to Ireland's €15bn domestic grocery and food service sector
– €12.1bn worth of exports in 2018
– 53% of all exports by indigenous Irish manufacturers
– Destinations – UK 35%, rest of Europe 33%, third countries 32%
– Total payroll in the sector is over €2bn – more than any other manufacturing sector
– €11.1bn worth of materials purchased – 71% are sourced in Ireland
– €3.6bn worth of services purchased – 50% are sourced in Ireland
– Ireland is the largest net exporter of dairy ingredients, beef and lamb in Europe
– Ireland is the largest exporter in Europe of powdered infant formula
– Ireland exports over 80% of its dairy and beef production
– Ireland is the UK's largest supplier of food and drink
Key Facts
– The agri-food industry has deeper links to the wider economy than the rest of manufacturing.
– It accounts for almost half of direct expenditure by the entire manufacturing sector in the Irish economy (payroll, Irish materials and Irish services).
– As a result, the sector has a high employment multiplier, which means it supports employment in other parts of the economy in a way that other sectors do not.
– Uniquely, this economic activity is consistently dispersed throughout all regions of Ireland, especially rural areas. It is therefore also at heart of the social fabric of rural Ireland.