Prof Norman Delanty & FutureNeuro invites you to the National Neurogenomics Conference.
About this event
Genomic testing is beginning to play an increasingly important role in the practice of clinical neurology and neuroscience research. Major scientific advances continue to take place, offering more affordable, accessible and rapid sequencing of exomes and genomes to clinicians, patients and families. Interpreting such data on an individual patient or population basis presents its own challenges and it is important that those involved in clinical neurogenomic testing and genomic research in Ireland are comfortable with the opportunities and challenges of these powerful tools.
The goal of the National Neurogenomics Conference is to provide a forum to:
1. Educate clinicians involved in genomic testing, in particular interpretations of advanced genomics
2. Discuss advances in genomics research
3. Present interesting or difficult cases
4. Update clinicians and scientists on ethical, legal and social aspects of genomic testing
The target audience for our conference will be clinicians, patient groups & researchers in the field to meet & discuss topics related to genomics research and the research being carried out by FutureNeuro.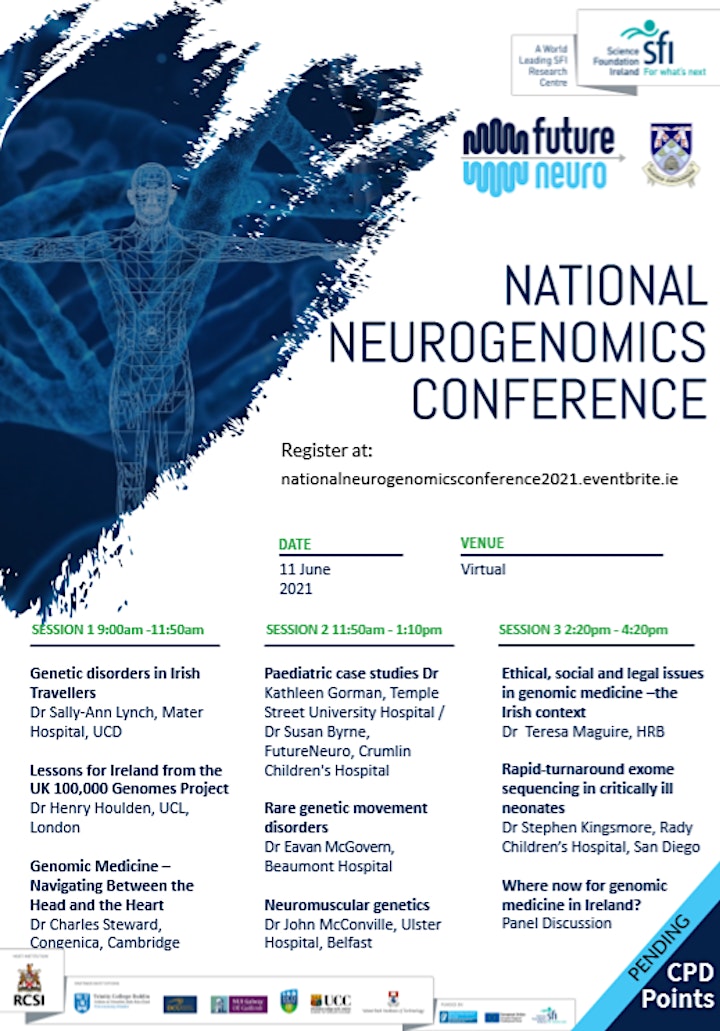 Organiser of National Neurogenomics Conference
FutureNeuro is the SFI Research Centre for Chronic and Rare Neurological Diseases. In partnership with the national clinical network for neurology, our centre contributes to improving the health and health-care of people with neurological disease. Our unique approach is to explore multiple related aspects of brain disease across the themes of diagnostics, therapeutics and eHealth. We are passionate about patient-centred care, backed up by evidence-based research.