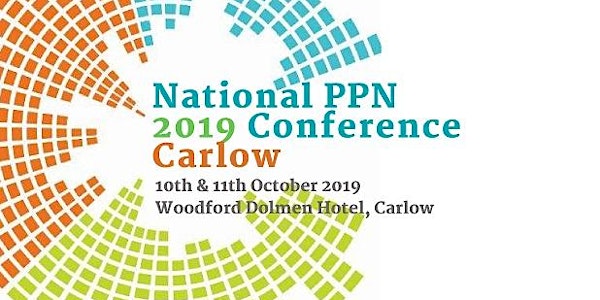 National Public Participation Network (PPN) Conference 2019
By National PPN Advisory Group
Date and time
Thu, 10 Oct 2019 10:00 - Fri, 11 Oct 2019 14:00 IST
Location
Woodford Dolmen Hotel Kilkenny Rd R93 N207 Carlow Ireland
Description
Mr. Sean Canney, T.D., Minister of State at the Department of Rural and Community Development and the National PPN Advisory Group would like to invite you to the third National PPN Conference.
The PPN is a framework for public engagement and participation and is the main link through which County/City Councils connects with the community. The primary aim of the PPN is to facilitate and enable the public and the community to interact with local government and other relevant agencies.
The National PPN Conference provides an invaluable networking opportunity for Resource Workers, PPN Members/Representatives/Secretariats, County/City Council staff and Elected Representatives to share experiences and to learn from one another. It is also an opportunity for the Department and the National PPN Advisory Group to interact with all stakeholders and advise of the latest developments in relation to PPNs. The Annual Conference is a means to showcase the operation of PPNs in practice and highlight best practice experiences. It makes for an ideal setting to hear of the achievements of PPNs within their respective counties in partnership with stakeholders and an ideal occasion for local authorities to demonstrate their commitment and support of the Network and the fundamental principles behind Citizen Engagement.
Who should attend (max of 10 persons per PPN/Council):-
PPN Members / Represenatives / Secretariat Members

PPN Resource Worker / Staff

County/City Council Staff - CE, Director of Services, LCDC Chief Officer

Local Authority Elected Members

SICAP Programme Implementor
Please note, accommodation arrangements are a matter for each individual or organisation sending representatives.
If you have any queries, please contact Gráinne O Neill, Carlow PPN at carlowppn@carlowcoco.ie or 059/9172495.
About the organiser
The National PPN Advisory Group was established in 2016 to monitor and evaluate the work of the PPNs regularly in line with best practice.  The Group is chaired by the Department of Rural and Community Development who also provide the secretariat services for the Group.
The Group now includes one represenatative each from Community and Voluntary, Environmental and Social Inclusion sectors, three PPN Resource Workers and two County/City Council staff.