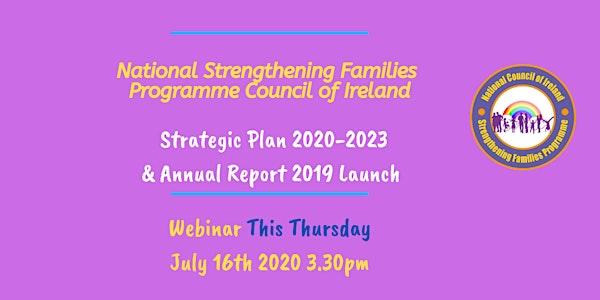 National SFP Council of Ireland Annual Report 2019 & Strategic Plan 2020-20
National SFP Council of Ireland Strategic Plan 2020-2023 & Annual Report 2019 Launch
About this event
This launch will outline the work of the National Strengthening Families Council across Ireland. The council comprises of SFP managers, trainers, steering group members & funders who work collectively to ensure best practice and ongoing development of SFP in Ireland.
Inputs will be received from
Gemma O'Leary (Cork LDATF), NSFPC chairperson
Dr Henry Whiteside, Strenthening Families Programme Developer (Utah)
Site Co-ordinators Garda Noel Loughran (Louth SFP) & Suzanne Lindsay (Tallaght SFP)
There will contributions from families and parents who have participated on the programme from Tallaght, Cork and Blanchardstown.
This online event will be hosted on Zoom and details for login will be circulated to those who register.