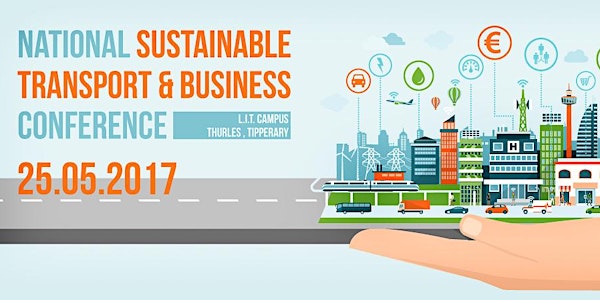 National Sustainable Transport & Business Conference
When and where
Location
LIT Tipperary Nenagh Road Thurles Ireland
Description
Discover the latest solutions that will help your business improve and grow. Irish Industry faces major challenges to meet climate action targets. Sustainable technology in the transport sector and businesses in general has provided for significant savings on costs and improvements in efficiency.
At the National Sustainable Transport & Business Conference, emerging technologies, potential opportunities for your business and Case Studies of the benefits of successful implementation of Sustainable Business and Transport initiatives will be presented.
Hosted by Tipperary Green Business Network in conjunction with the Tipperary Energy Agency and the EPA Green Business Programme, the Sustainable Transport and Business Conference will feature key insights from thought leaders and service providers. The keynote address will be given by Laura Behan, Head of Climate Change Unit, Department of Transport, Tourism & Sport and other speakers on the day include Rodger O'Connor, Gas Network Ireland, Dave Fitzgerald Dairygold, Paul Kenny, Tipperary Energy Agency, Verona Murphy, Irish Road Haulage Association, Lis O'Brien & Ailbe Burke, LIT, James Hogan, GreenBusiness, Conor Molloy AEMS ECOFleet, Ian McDonnell, Alternative Fleet Ltd., Raoul Empey, SEAI, Anne Murphy , IBEC , Thomas Ryan, IFA, Andrew Aveyard, Future Renewables ECO Plc, and Barry O'Donovan ABP Group.
Sustainable Transport & Viable Business Exhibition and Conference will feature:
• Key insights from thought leaders and
service providers.
• Case studies from business and sectoral
leaders on the benefits of sustainable
transport initiatives and more sustainable business practices.
• Seminars on the latest industry, transport and business issues.
• Exhibition area featuring solution
providers, Research and Innovation,
Sustainability, Business Technology,
Sustainable Energy Technologies.
• BIG shiny toys and much more…
If you are a supplier looking to showcase your business at the National Sustainable Transport & Business Conference please get in touch at tipperarygbn@gmail.com
This Conference is sponsored by Calor, Future Renewables Eco PLC and Gas Networks Ireland and is supported by the Local Enterprise Office, Tipperary, (LEO) and Tipperary Co. Council.
For more information on Tipperary Green Business Network, Tipperary Energy Agency and the Green Business programme, visit http://www.tgbn.ie http://www.tippenergy.ie and http://www.greenbusiness.ie