National Volunteer Management Conference 2012

Wednesday, 7 November 2012 from 09:00 to 16:45 (GMT)
Event Details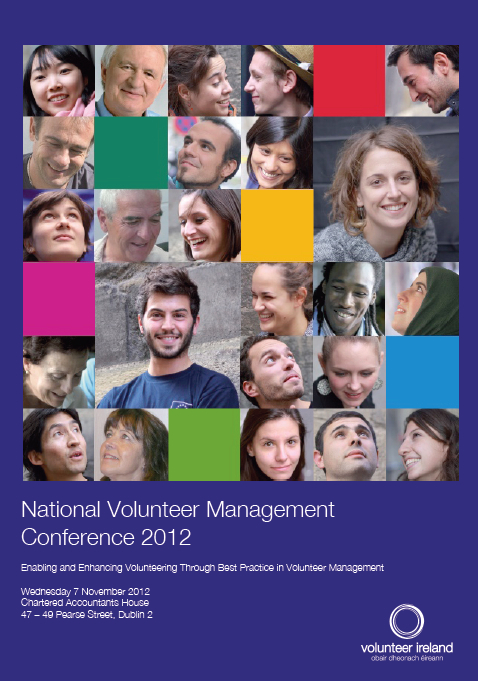 Behind Ireland's thousands of volunteers lie the equally dedicated individuals and organisations responsible for their recruitment, training, support, and management.
These are the people that can inspire volunteers and enable an environment where volunteering can thrive. These are the people that inspire volunteers and enable an environment where volunteers thrive.
This is your opportunity to join your peers, colleagues and leaders in the field of volunteer management from all over the world for a day of professional development, networking and informative, thought-provoking workshops.

Who Should Attend?

- Groups and organisations (large and small) currently involving volunteers or those thinking of involving volunteers.
- Individuals (paid or unpaid) working directly with volunteers or who are responsible for managing volunteers in some capacity. 
- Anyone looking to gain an in-depth understanding of best practice in volunteer management.
The programme

Our programme will give you an insight to volunteering here in Ireland and will also include insightful inputs from International Speakers on their experiences in Australia, Canada and the UK. 
Martin J Cowling is our keynote speaker this year and will look at the issue of equipping paid staff to work with volunteers. 
Tony Goodrow from Canada will introduce us to The Scarce Resources Model for Measuring the Return on Investment of Volunteer Engagement while Nikki Squelch from the UK will present how your organisation can benefit from developing a Volunteer Strategy no matter what its size
Add to that presentations and workshops on orientating and training volunteers, corporate volunteering, The Dublin Tall Ships Festival Volunteers and the London 2012 Olympic & Paralympic Games and you've got the event for those managing volunteers like no other … come network and learn with us …
Don't forget you can tweet and follow us on Twitter #nvmc2012
Book your place now
Dowload a copy of the full programme (Adobe pdf file)
Workshop Overviews
Equipping staff to work with volunteers
Martin J Cowling

The issues related to the relationship between paid staff and volunteers ranks as one of the most commonly raised issues for volunteer involving organisations.  This session considers the facts that will result in better employee support and relationships.  It provides solid advice on what is required to build a better working environment.  Participants will leave with a framework and strategy for organisations.

 

 

Scarce Resources Model for Measuring the ROI of Volunteer Engagement
Tony Goodrow

It's common wisdom in the business world that "If you can't measure it, you can't manage it". The Scarce Resources Return on Investment (ROI) method of measurement is a unique approach that gives a whole new yardstick to help demonstrate the successes of volunteer deployment in organisations.  Much more than hours and numbers of volunteers, it can help you demonstrate a much more meaningful assessment of the worth of volunteer contributions and your ability to manage organisational resources.

 

 

Developing a Volunteering Strategy

Nikki Squelch

Does your organisation pay lip service to volunteers being at the heart of your charity, yet often the last ones to be considered when major decisions are being made?  Will a volunteering strategy give you the influencing tool to ensure that the volunteering programmes aren't compromised?  This workshop will give you a helpful insight into developing a strategy and give you practical take away tools to use.

 

 

Linking Corporate Volunteers and Organisations Annemarie Ní Churreáin

This workshop is for both corporates and organisations looking for clarity on how best to involve corporate staff as volunteers in the community and voluntary sector. You will hear first hand from Volunteer Ireland, corporates and organisations on they worked together to ensure a powerful experience for all involved through Volunteer Ireland's newly launched Inspiration Days.

 

 

Orientating & training your volunteers

Stuart Garland & 
Terri O'Brien

In this workshop we will explore the rationale and elements of volunteer orientation and training.  We will learn how To deal effectively with the challenges posed by orientation and training and we will distinguish between volunteer orientation and training.  As an outcome you will be Identify and respond to challenges in orienting and training today's volunteers.
When & Where

Chartered Accountants House, 47 - 49 Pearse Street, Dublin 2.
Pearse St
Dublin
Ireland


Wednesday, 7 November 2012 from 09:00 to 16:45 (GMT)
Add to my calendar
Organiser
Volunteer Ireland is the national volunteer development agency and a support body for all local Volunteer Centres and Volunteering Information Services in Ireland.  Volunteer Ireland works to promote and celebrate volunteering in Ireland.  For more information on our training and consultancy services please visit our web site.