NLC is an intimate summer-rave adventure for contemporary electronic and experimental music at the southern tip of Crete.
About this event
CRETE MEETS AFRICA & THE ARAB WORLD

Dear Nature Ravers -
The legendary festival, founded by Cretan native Abyss X, returns this fall for its second edition to the remote shores of Sougia Bay - a nudist beach with shiny pebbles and turquoise waters, surrounded by wild, steep gorges in a tiny village of 150 habitants. Its first edition in 2019, a truly ambitious project, established itself without any corporate sponsorship and solely through community support.
Nature Loves Courage Festival creates a space for collective manifestation, esoteric self-exploration and profound togetherness in the spirit of freedom of being and inclusivity. It is a journey into psychedelia where the arresting beauty of the landscape sets off cathartic auditory escapades. NLC was described by many of its artists and attendees, sometimes through tears of joy, as a once in a lifetime experience.
Drawing from the rich, sonic channels of the African and Arab world that run through the tip of Southern Europe where Crete is located, NLC, with the support of leading Arabic speaking magazine Ma3azef and Kampala-based collective Nyege Nyege, summons the ancient winds resurfacing from the native terrain. Nyege Nyege, a game changer in the electronic music landscape, bringing African-based music excellence to the world, presents some of its artists including DJ Diaki, De Schuurman and Moesha 13 to this idyllic point, alongside Juliana Huxtable, DJ LOSER, Abyss X, FREQUENT DEFECT, ڭليثرGlitter٥٥ .
*FRIDAY OCT 8*
Oraculo
Renata / Frequent Defect
De Schuurman
Juliana Huxtable
Abyss X
*SATURDAY OCT 9*
june as / Frequent Defect
Moesha 13 ڭليثرGlitter٥٥
DJ Diaki
Kilbourne
See you on the other side!
https://www.facebook.com/nlcfest
https://www.instagram.com/nlovescfestival/
https://naturelovescouragefest.com/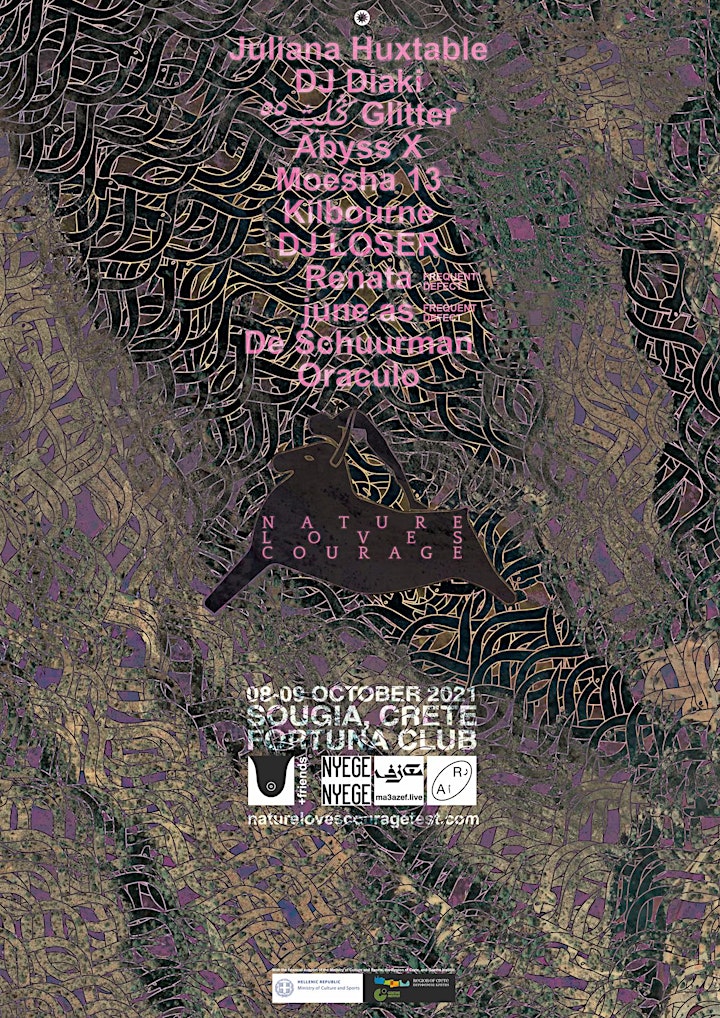 Organizer of Nature Loves Courage Festival 2021 Festival Pass
NLC is a two day festival taking place at one of the most astonishing locations in the world, the south of Crete, also Europe's closest situated point to Africa.
Inspired by the widely known quote by philosopher, anthropologist and enlightened earth child Terence McKenna, Nature Loves Courage proposes an intimate festival experience for the festival goer. With a very limited capacity of 350 people, the festival's venue, is located close to the beach and suggests a relaxed and profound experience away from the usual club/ warehouse/ institutional setting where line ups of this nature are usually witnessed.