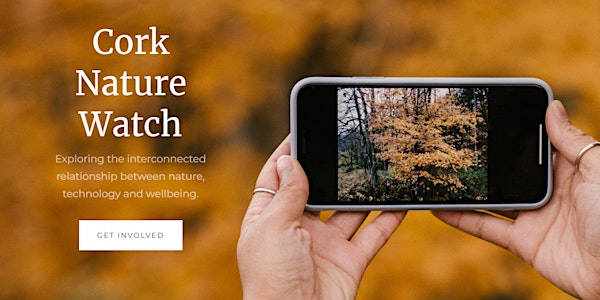 NatureWatch Festival
Join us for a free outdoor festival, exploring the links between nature-technology-wellbeing, as part of the Nature Watch project
When and where
Location
Cooperage Building, School of Biological, Earth and Environmental Sciences, North Mall Campus, University College Cork T23 XA50 Cooperage Building UCC North Mall Campus Cork Ireland
About this event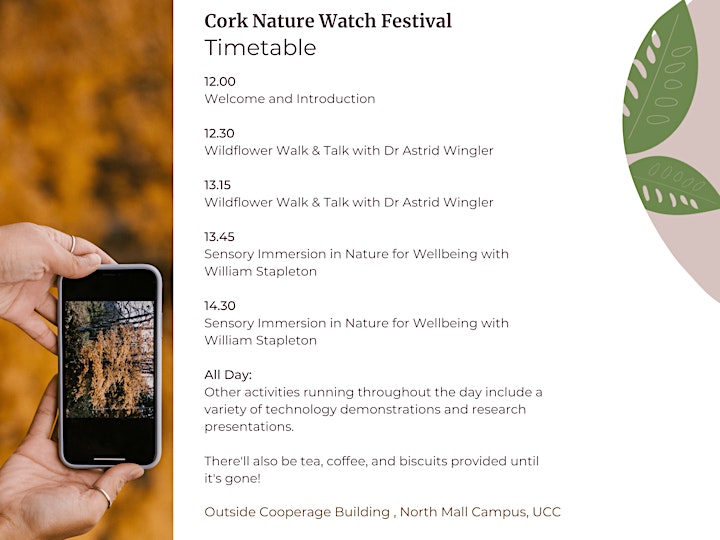 There is increasing evidence to show that green spaces provide mental-health benefits, greater wellbeing, and lower levels of depression, stress, and anxiety. However, we don't all have equal access to such spaces so researchers in UCC have been developing a major new Citizen Science project to support immersion in nature, even when access to traditional green spaces may be limited.
The NatureWatch project links nature and technology to support the wellbeing of older adults. The team, which is funded by Science Foundation Ireland's Discover Programme have been developing training materials and exercises for people who are interested in exploring nature, photography, technology, and wellbeing.
The NatureWatch Festival planned for July and September will provide in-person training on how to use the technology, guided nature walks on UCC's campus, and wellbeing exercises linking with nature.
Join the team on July 7th 2022 between 12pm-3pm on UCC's North Mall Campus, where they will offer a range of activities, including a guided wildflower and nature walk, technology demonstrations and technology training, and wellbeing exercises. There will be the option to sign up to receive free training equipment (i.e., cameras, recorders) through the participation in our seasonal online workshops.
We are also delighted to be joined by colleagues from the Interreg-funded ECHOES project, Luke Lambert will be manning the ECHOES project stand at the festival and will be speaking to visitors about the activities of the project which examines the effects of climate change on biodiversity, specifically on our native bird species the Grey Fronted Goose and the Eurasian Curlew.
The event will have three different workshop stations which visitors can move between:
A guided wildflower walk (led by Prof Astrid Wingler, Head of Plant Science at UCC)
A biodiversity recording technology demonstration (led by the Nature Watch team)
A wellbeing in nature workshop.
Timetable:
12.00
Welcome and Introduction
12.30
Wildflower Walk & Talk with Dr Astrid Wingler
13.15
Wildflower Walk & Talk with Dr Astrid Wingler
13.45
Sensory Immersion in Nature for Wellbeing with William Stapleton
14.30
Sensory Immersion in Nature for Wellbeing with William Stapleton
All Day:
Other activities running throughout the day include the ECHOES project stand, a variety of technology demonstrations, and research presentations.
There'll also be tea, coffee, and biscuits provided until it's gone!