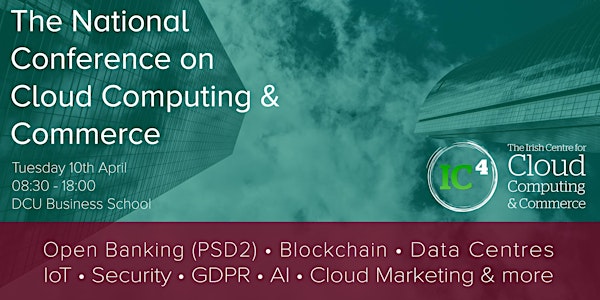 NC4 2018 | The National Conference on Cloud Computing & Commerce
When and where
Location
DCU Business School Dublin City University D09 FW22 Dublin Ireland
Description
IC4 is delighted to announce that The National Conference on Cloud Computing and Commerce (NC4) will take place on Tuesday, April 10th in Dublin City University Business School. The conference will take place from 8:30am until 6pm and there will be a choice of morning and afternoon sessions as well as a plenary in The Helix during the late afternoon.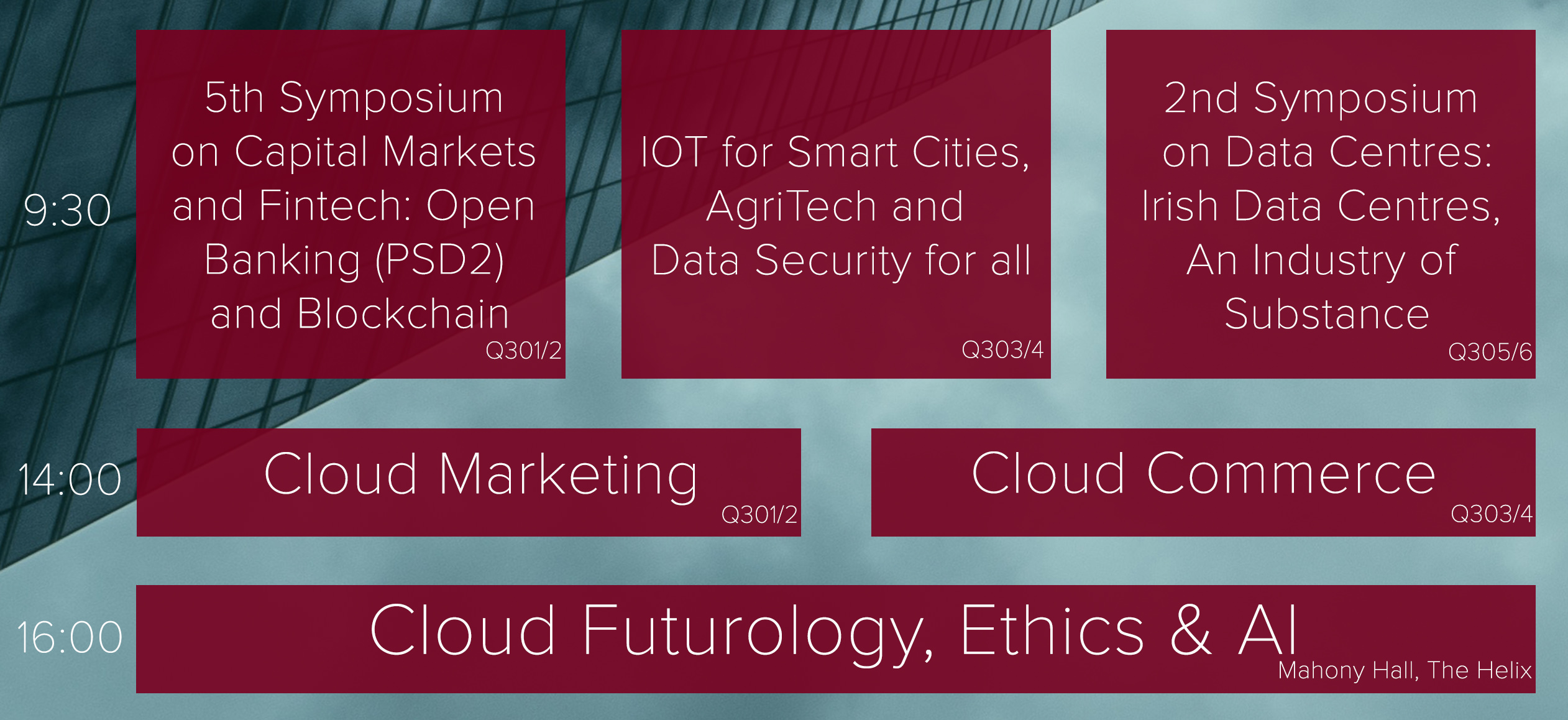 For full details of speakers, talks, etc., see our NC4 Microsite.
Morning Sessions
The 5th Symposium on Capital Markets and Fintech: Open Banking (PSD2) and Blockchain
This fifth symposium organised by the Finance Innovation Group at DCU will discuss the potential impacts of Open Banking, PSD2 and blockchain on the Irish financial sector, with a particular focus on the how cloud computing can model and facilitate the implementation of these technologies.


IOT for Smart Cities, AgriTech and Data Security for all
This conference stream has two parts; part one, (early morning) addressing the IoT data platform opportunities for Smart Cities and AgriTech followed by part two, (late morning) on all things Security. We will be sharing IC4 current research perspectives and facilitated discussions during each session.


The 2nd Symposium on Data Centres: Irish Data Centres, An Industry of Substance
This 2nd symposium on Data Centres is held in association with Host In Ireland and the RECAP project. Moderated by Garry Connolly, it will feature discussions of the current, short term and longer term risks and opportunities facing the industry and the latest research on edge and fog computing. The speakers on the day will include Maurice Mortell (Equinix), Tanya Duncan (Interxion), David Mc Auley (Bitpower), Alec Leckey (Intel) and many more.
Following the morning sessions, we will have a networking lunch.
Afternoon Sessions
Cloud Marketing
The impact of the cloud can be seen in every industry but nowhere is it more visible than in marketing. Digital marketing spend in Ireland was over €445 million last year. This stream will cover all aspects of cloud marketing featuring speakers from IBM and Oracle.


Cloud Commerce
Cloud has had a transformative effect on business innovation and effectiveness. This stream features two insightful and thought-leading examples; General Motors autonomous vehicles, Siemens' digitalisation of business.

Plenary
Following our morning sessions in the Business School, we will go to The Helix for our Plenary titled: "

Cloud Futurology, Ethics & AI

"
Our plenary rounds of the day with a keynote address from Clare Dillon on 'Ethics in an AI world' and IBM and the future of the cloud.