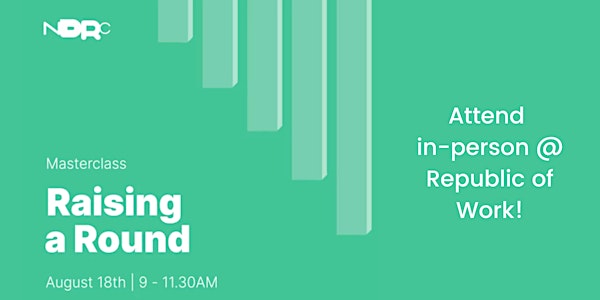 NDRC Masterclass: Raising a Round
This month's edition of the NDRC Masterclass is coming LIVE from Republic of Work! Understanding the ins and outs of pre-seed fundraising
When and where
Location
REPUBLIC OF WORK 12 South Mall Street Cork Ireland
About this event
Fundraising is a multi-step process that can trip even experienced founders up if they don't go in with a plan.
Building early product is hard enough. Putting all of the info together in a compelling way for investors to tell your story can be just as challenging, especially for someone that's never done it before.
This course will provide the basic structure and components founders need ready to start speaking with investors through to closing the round.
1. Kick-Off & Getting Started - (09:00 - 09:10)
Welcome & Introductions
Why having a plan matters for founders and advisors
2. When and How Much to Raise - (09:10 - 10:20)
Pre-seed landscape in Ireland
Fundraising as a sales process
Interactive discussion with breakout groups
3. Investor Readiness Checklist - (10:30 - 11:25)
Data room & documentation
Expert panel discussion
Interactive discussion with breakout groups
4. Actions & Wrap - (11:25 - 11:30)