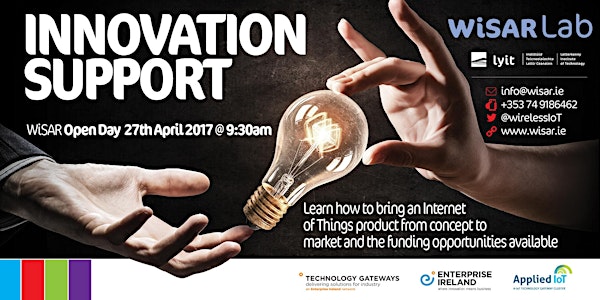 Need your own R&D Department? Innovation Open Day for Companies in the NW
By WiSAR Technology Gateway at Letterkenny Institute of Technology
Date and time
Thu, 27 Apr 2017 09:30 - 14:00 IST
Location
Letterkenny Institute of Technology CoLab Building Port Road Letterkenny Ireland
Description
Timed to coincide with the opening of Innovation Voucher application windows in Ireland and N. Ireland, this event is for all companies and wantrepreneurs interested in developing innovative products using technology, such as making a product or service internet enabled. The "Internet of Things" (or IoT) describes a revolution, already under way, in which we can see a growing number of internet-enabled devices: products that can network and communicate with each other and with other web-enabled gadgets. The event is hosted by the WiSAR Lab who have the ability and know-how to develop new products and processes in this revolutionary and dynamic space.
Learn how to bring your product idea from concept to production with speakers from industry and from LYIT

Applications and Case Studies using the Internet of Things

Tour the WiSAR Lab and see demonstrations

Hear funding mechanisms explained

Between €5,000 and €200,000 available to Companies for contract Research & Development
Registration - 9:30
Talks (9:45 - 13:30):
Innovation Vouchers & practical examples from the WiSAR Lab, Stephen Seawright, WiSAR Technology Gateway
WiSAR Lab Innovation Partnership Case Study, Jim Morrison, LYIT, Head of Department of Electronic & Mechanical Engineering
Electronic Product Design, exploiting the power of IoT, Davd Gray, CEO, Logpro Ltd.
Electronic Design for Production, John-Paul McCorley, Director, Arbar Electronics
Design Evolution of an IoT Enabled Product, William Lee, Founder & CEO, The Design Factor
Connecting Your product to the Cloud, Ben Graham, Senior Engineer, The WiSAr Lab
Multidisciplinary Design - Key To Reaching End Users, Padraic Lynch, LYIT, Department of Design & Creative Media
Financing, Ultan Faherty, Area Manager, WestBIC
13:30 – 14:00, Lunch & Networking
14:00 – 15:00, Opportunities for 1-1 meetings

About the organiser
The Technology Gateway Network is run by Enterprise Ireland in partnership with Institutes of Technology successfully delivering expertise and solutions for industrial partners in a wide area of expertise such as electronics, software, embedded solutions, polymers, biotech, pharmaceuticals, mechatronics, photonics and wireless services.
The Wireless Sensor Applied Research Lab (WiSAR) provides solutions to industry for The Internet of Things (IoT) using expertise in wireless, electronics, embedded systems and related software.  WiSAR is an established versatile engineering group experienced in a wide range of electronic challenges. We are based within Letterkenny Institute of Technology and are the NorthWest access point to the Technology Gateway Network.
As technology is proliferating into all sectors we help companies develop products and integrate solutions into their systems in sectors such as Marine, Agriculture, Healthcare, Fashion, Sports & Tourism, Industrial Control, Environmental Management, Built Environment, Renewables and Smart Towns/ Cities.
We work with companies throughout Ireland and can assist our clients draw down European and State research funding.