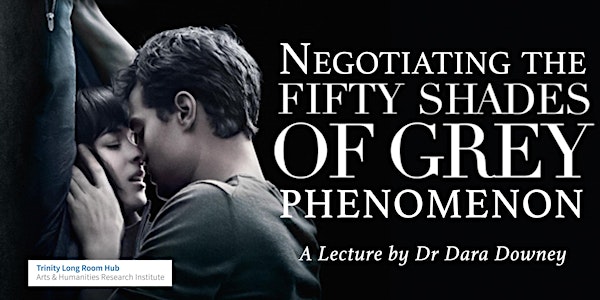 Negotiating the Fifty Shades of Grey phenomenon.
Event Information
Location
Trinity Long Room Hub
Fellows Square
Trinity College Dublin
Dublin
Ireland
Description
A public lecture by Dr Dara Downey TCD. As part of the Popular Literature Lunchtime Lecture series organised by the School of English, TCD
In this lunchtime lecture, Dara Downey discusses the origins and cultural resonances of EL James's Fifty Shades of Grey series of novels. Situating the books alongside more ostensibly "literary" or canonical works as Samuel Richardson'sPamela or Charlotte Bronte's Jane Eyre, as well as considering its roots in fairytales such as "Cinderella" and "Bluebeard," Downey examines the ways in which these texts, along with numerous, far less well-known works of gothic romance by women writers for women readers, establish and seek to perpetuate particular forms of heterosexual relationships. In doing so, she will consider the place of popular fiction and fanfiction in contemporary culture, as well as the often horrified responses to the Fifty Shades books and films in the media and online.
About Dara Downey
Dara Downey is a lecturer School of English, TCD. She is the editor of The Irish Journal of Gothic and Horror Studies and co-founder of the Irish Network for Gothic Studies. She is Vice-Chair of the Irish Association for American Studies, and author of American Women's Ghost Stories in the Gilded Age.

About the Popular Literature Lunchtime Lecture Series

The Popular Literature Lunchtime Lecture Series, hosted by the School of English at Trinity College Dublin, is a series of free public lectures from Irish and international experts on all sorts of popular literature - romance, crime, horror, children's literature, and more.

Running on Wednesdays from 12:30-13:30pm in Trinity's Hilary Term (Jan-April) this monthly series takes the form of 30-40 minute lectures followed by a 10 minute open Q&A in which the audience will be invited to offer comments or questions on the topic.

The series is aimed at postgraduate students, staff, and the general public. Perfect for a lunchtime pop lit fix!

See the full list of lectures from this series here
Date and time
Location
Trinity Long Room Hub
Fellows Square
Trinity College Dublin
Dublin
Ireland