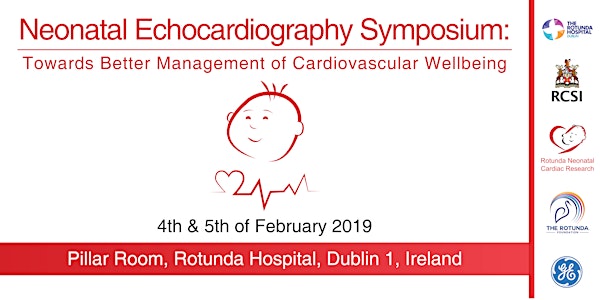 Neonatal Echocardiography Symposium: Towards Better Management of Cardiovas...
Location
The Pillar Room
Rotunda Hospital
Parnell Square
Dublin 1
Ireland
Refund policy
Refunds up to 30 days before event
Description
Neonatal Echocardiography Symposium: Towards Better Management of Cardiovascular Wellbeing
The use of echocardiography (heart ultrasound) in the field of neonatology (the care of critically ill premature and term infants) has gained huge momentum over the last 5 to 10 years. There is an increased recognition of the benefits of this modality in improving how we manage critically ill infants by better identifying the underlying condition, devising an appropriate and targeted treatment plan, and monitoring response to treatment.
The introduction of neonatal echocardiography in the neonatal intensive care unit has resulted in improved outcome for this vulnerable population.
This symposium is designed to share new knowledge and expertise developed primarily by our research group in the Rotunda Hospital and the RCSI, along with our International collaborators, on the use of echocardiography to better manage critically unwell premature and term infants.
The course is divided into didactic and practical sessions. Candidates will be exposed to the latest and up-to-date information on the use of neonatal echocardiography provided by local and international leaders in the field. Management of specific and relevant conditions using this modality will be specifically discussed. The candidates will also engage in practical sessions designed to provide hands-on exposure to echocardiography using the latest and state-of-the-art ultrasound equipment and echocardiography simulator technology.
This course is for neonatologists, paediatricians, paediatric and neonatal trainees, paediatric cardiology trainees and ultra-sonographers looking to build their neonatal echocardiography skills. It has been designed to be maximally applicable to clinical practice.
SPEAKERS
Prof Afif EL-Khuffash (Royal College of Surgeons in Ireland)
Dr Orla Franklin (Royal College of Surgeons in Ireland)
Prof Amish Jain (University of Toronto)
Dr Phil Levy (Harvard University)
Dr Neidin Bussmann (Royal College of Surgeons in Ireland)
Dr Aisling Smith (Royal College of Surgeons in Ireland)
TIMETABLE
---
---
---
Day 1 – 4th of February
08.00 Registration
08.45 Welcome and Aims of the Day
09.00 Physics of Ultrasound and Artefact
09.40 Routine Ultrasound Views
---
10.10 Coffee
---
10.30 Common Structural Lesions
11.15 Relevance of Echo in specific conditions
Monochorionic Diamniotic Twins
Infants with Down Syndrome
Infants with HIE
---
12.00 Lunch
---
13.00 - 17.20: Basic Echo Skills
Echocardiography Simulator
Subcostal View
Apical view
Parasternal View
High Parasternal View
---
15.00 Coffee break
---
16.20 - Resume Basic Echo Skills
---
17:20 Day Close
---
---
---
Day 2 – 5th of February
---
09:00 Advanced functional imaging
09:40 Assessment of pulmonary hypertension
---
10.00 Coffee
---
10.50 Assessment of low blood flow states
11.30 Assessment of Patent Ductus Arteriosus
---
12.30 Lunch
---
13.30 - 17.00: Functional Assessment
Shortening Fraction and Ejection Fraction
Tissue Doppler Velocities
RV TAPSE and FAC
Parasternal View
Assessment of output and perfusion
---
15.00 Coffee break
---
15.30 Resume Functional Assessment
---
17:00 Day Close
---
---
---