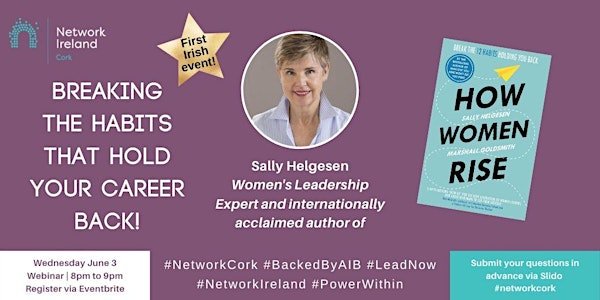 Network Cork Webinar: Breaking The Habits That Hold Your Career Back
Breaking the habits that hold your career back!
Refund Policy
Contact the organiser to request a refund.
About this event
Sally Helgesen, the world's premier expert on women's leadership, will be the guest speaker on leading in a time of crisis at Network Ireland Cork's live webinar on Wednesday, 3 June. Entitled Breaking The Habits That Hold Your Career Back, the webinar will be the first speaking engagement in Ireland for the US-based best-selling author. Taking place from 8pm-9pm, registration is free for members and €15 for non-members.
Sally's most recent book, How Women Rise, co-authored with legendary executive coach Marshall Goldsmith, examines the behaviours most likely to get in the way of successful women as they seek to move to a higher level. It became the top-seller in its field within a week of publication and rights have been sold in 19 languages.Speaking ahead of the webinar, Sally Helgesen said: "As human beings, we are programmed to participate in self-limiting behaviours. However, what I have seen in my years as a leadership coach is that as women climb the career ladder, they often display specific self-sabotaging behaviours that are different from men. "I hope that those attending the Network Ireland Cork webinar will come away from the evening with powerful solutions to help them realise their full potential. My mission is to help women recognise, articulate and act on their greatest strengths. In the current environment, this has never been more important. So many of us may now be looking for new jobs, or proving ourselves in our existing ones, so we need to identify and address self-limiting behaviours before it makes a serious and lasting impact on our careers."
The Breaking The Habits That Hold Your Career Back webinar will be the fifth webinar in a series launched by Network Ireland Cork to support members during COVID-19. Questions for the webinar on Wednesday, 3 June can be submitted in advance at www.slido.com or on the Slido app by using the event code #networkcork.
MC for the evening is Ingrid Seim, founder and coach at Avenues Consultancy & Coaching; with the Q&A session facilitated by corporate leadership development consultant, Allana Brown of Allana Brown Consultancy. The Pitches in Person (PIPs) are Aoife Lenox, Inside Strategies and Ciara Buckley, Wombat Media. Tech support will be provided by Philipa Jane Farley of ProPrivacy.Network Ireland Cork's president, Marguerite O'Sullivan comments about the event "As president in 2020, I wanted in my term to enable each and every woman in the Network to aspire to be the very best at what they do and become leaders in their field. Our series of webinars this year have focused on building leadership and rising above the current challenges. This theme epitomises what Sally is all about, and I am delighted to have her join remotely from New York for, what I am sure, will be an incredibly insightful evening for all attending."
To access the livestream: ***Link to the webinar will be in the confirmation email from Eventbrite. It can be found either by (1) clicking the orange box 'view now' or (2) under the title 'additional information' ***