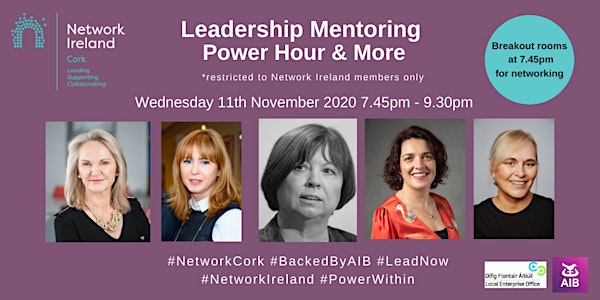 Network Cork Webinar: Leadership Mentoring Power Hour & More
Meet five inspiring leaders, join in mentoring roundtables and be part of a leaders panel discussion.
About this event
Join Network Cork President Marguerite O'Sullivan and her committee for this exciting members only event. Meet 5 inspiring leaders, join in mentoring roundtables and be part of a leaders panel discussion. This event will give us the opportunity to meet with inspiring leaders to discuss current topics and gain leaders insights and learnings, covering topics such as transformation leadership, resilience, business continuity planning. Check out the Network Cork Members Facebook Group for the Access code of contact cork@networkireland.ie.
Speakers:
Mary Harney The first woman leader of an Irish political party. After retiring from politics in 2011, Former Tánaiste Mary Harney completely re-imagined her career. She is now the director of a number of private companies in pharmaceutical, healthcare, technology and financial services sectors. She provides advisory services to a range of companies in theses sectors. She also undertakes speaking engagements, particularly in a business context.
Helen Whelton is Head of the College of Medicine and Health, UCC and Chief Academic Officer to the SSWHG since October 2017. Prior to this she was Dean of the School of Dentistry, University of Leeds, UK. Professor Whelton is PI of a large EU H 2020 grant to explore the use of Big Data in dentistry. She jointly led the iED Hub initiative, receiving €8.7m of funding for a consortium to develop the next generation of Health & Life Sciences graduates, under the Irish Government's Human Capital Initiative 3 (HCI 3) Pillar funding. Previously, in UCC she was Vice Head of the College, Dean of the Graduate School in the CoMH, Professor of Dental Public Health and Director of the OHSRC. Helen has served on the board of the Irish Health Research Board, the National Obesity Task Force and the Irish Women's Health Council. She is a recent past President of the International Association for Dental Research.
Bríd Bourke is a behavioural psychologist. She has decades experience consulting with Fortune 500 companies in the diagnosis of culture and people issues, and in the design and implementation of leadership development programmes. Bríd was the first executive coach in Ireland to be invited for assessment to join the global premier coaching organisation for corporate executive coaching: Coach Source (previously Alliance for Strategic Leadership (A4SL)). She has been selected onto the Global Executive Coach Panels for Dell, Intel, Microsoft and Google. She currently is a PhD scholar in the CUBS, UCC researching determinants of consumer behaviour. Brid is a past President of Network Cork
Catherine Healy Vice President Product Management DePuy Synthes Johnson & Johnson. Catherine is currently leading the DePuy Synthes Johnson & Johnson Product Management team. She and her team are responsible for designing supply chains for new products that result in less complexity and improved agility that can reliably deliver quality products at lower costs through orchestrating end to end supply chain core teams in collaboration with R&D and Commercial organizations. Catherine joined J&J 13 years ago and has 25 years global experience across Strategic Marketing, Supply Chain and Research & Development within Telecommunications & Medical Device businesses. She specialises in End to End Business leadership by working with cross-functional teams to achieve positive business outcomes whilst using her Coaching skills to motivate and grow teams around the world. Catherine holds a degree in Sales and Marketing from the Conservatoire National des Arts et Métiers, Paris, France and a Masters in Personal Management and Coaching from University College Cork, Ireland
Dee Waldron Founder of Fuzion Communications Deirdre is one of Ireland's leading communications consultants with more than 25 years industry experience in the UK and Ireland and specialises in Strategic Communications and Reputation Management, working with a very diverse mix of clients. A member of Network Cork since 2009, in 2016 Deirdre was President of Network Ireland. She is also on the board of Cork Chamber, the Triskel Arts Centre and the National Youth Orchestra of Ireland.