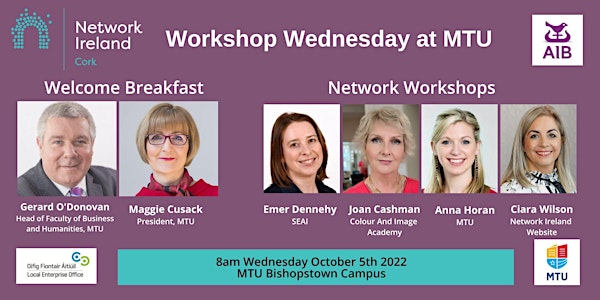 Network Cork Workshop Wednesday at MTU
A Network Ireland members only event in MTU. Join your fellow members for what promises to be a very informative event.
When and where
Location
MTU Bishopstown MTU, Bishopstown T12 P928 Cork Ireland
About this event
Network Cork is honoured to be welcomed to MTU's Bishopstown campus on Wednesday, October 5th by Maggie Cusack, President of MTU and Gerard O'Donovan, Head of Faculty of Business and Humanities. The schedule will commence with breakfast in MTU's Tourism and Hospitality Building and will be followed by four great workshops.
This event is for Network Ireland members only.
Our speakers during breakfast 8am to 9am:
Maggie Cusack is the Inaugural President of Munster Technological University (MTU) which came into being on 1st January 2021 when Cork Institute of Technology and Institute of Technology Tralee came together to form MTU.
From 2017-2021 Maggie was Dean of the Faculty of Natural Sciences at the University of Stirling. The Faculty comprises the Institute of Aquaculture, Divisions of Biological & Environmental Science, Computing Science & Mathematics and Psychology. She was academic lead on the project boards for Aquaculture Innovation and Scotland's International Environment Centre as part of the City Region Deal for Stirling and Clackmannanshire.
Gerard O'Donovan is Head of MTU's Faculty of Business and Humanities. The Faculty of Business and Humanities delivers courses and research in a number of areas including business studies, social studies, recreation and leisure, professional development, and hospitality.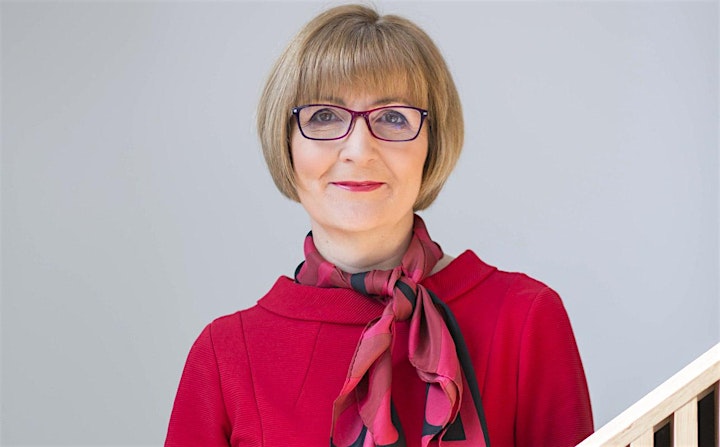 Workshops commence at 9.15am. About our workshop speakers:
Dr. Emer Dennehy is a senior energy analyst currently responsible for Ireland's national energy projections at the Sustainable Energy Authority of Ireland (SEAI). Emer has both national and international experience working as an energy analyst in the energy statistics and modelling groups in SEAI, as well as in the Energy Technology Perspectives Division in the International Energy Agency (IEA). With us all facing the rising costs of energy this winter, we will be very keen to learn from Emer.
Joan Cashman is an expert in personal styling and has been empowering women to look their best for over 2 decades. She was honoured with the Lifetime Achievement Award for my contribution to the Beauty Industry 2022, at the Tia Maria Beauty Awards. Joan says that style is more than just trends - it's a personal expression of your identity.
Joan is also known internationally for her highly developed training programmes. She was Head of Colour Me Beautiful in Ireland and provided training on behalf of the successful organisation throughout the UK and Germany before pursuing her dream of opening her own landmark academy, which is now recognised as the leading school for Personal Stylists and Colour Consultants throughout Ireland and abroad. Joan will you speak about the power of colour and the feel-good factor of dopamine dressing - which colours suit your unique colouring best; what style really means to us rather than what fashion tells us is on trend. Joan will help you to develop a more conscious, eco-friendly business wardrobe that suits your shape, personality and lifestyle.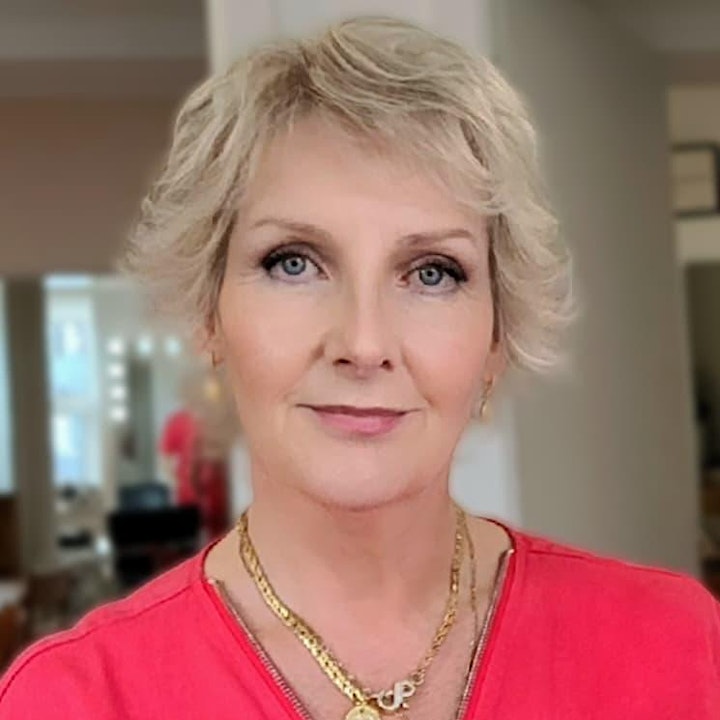 Anna Horan is an MBA and MSc-qualified marketing professional and lecturer in MTU. With over fourteen years of experience in dealing with stakeholders at all levels of organisations Anna is passionate about sharing the skills and knowledge she acquired while working in B2B and B2C marketing. Anna will take us through Instagram Reels and share best practices on how to efficiently use them for your business.
Ciara Wilson will provide us with a much-needed guide to the new Network Ireland website. Ciara is an Operations Administrator with Aspira and has been an active member of Network Ireland since joining in 2013. She has been on the National Executive since 2016 and Network Cork President in 2017. This year she has been working as Network Cork Website officer as well as the national website officer along with Gillian Hennessy. Maximise your engagement and business exposure by learning how to navigate the new Network Ireland website.
Maria Desmond, Network Cork President and the 2022 Committee look forward to welcoming you in MTU.
___________________________________________________________________________________________________________
Health protocol:
If you have any symptoms of Covid 19, we'd be grateful if you joined us on another occasion instead.
Photography/Recordings:
Please be advised that we do record our events with photographs and occasionally via video. Live streaming may also take place. These materials may be used by Network Ireland Cork Branch and included in publications, media materials, promotional materials, digital platforms and social platforms. If you do not wish to appear in any images captured, please contact a member of the Network Ireland Cork Branch committee on site. We can then take appropriate steps to comply with your wishes.
If you have any queries regarding this event, please contact Network Ireland Cork Branch via cork@networkireland.ie