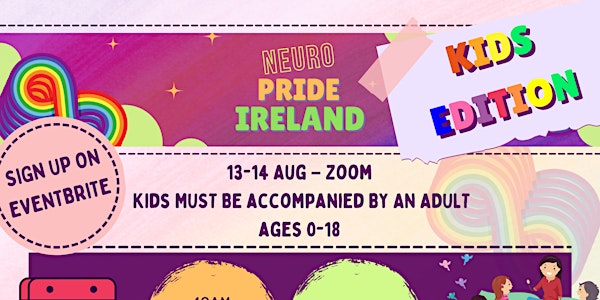 Neuro Pride Ireland Festival 2022: Kids Edition
Online Sessions for Neurodivergent children. All children must be accompanied by an adult … and all adults must be accompanied by a child!
About this event
All of our events can be found here at neuropride.ie or on our social media which can be found at https://linktr.ee/neuroprideireland
You only have to sign up once as the link is the same for all events.
You only need one sign up per household.
We also have a Google Calendar with all events: Add it to your own calendar, and have the events right at your fingertips.
We put together a guide so you know what to expect and what to have on hand. You can find it here.
We are proud to announce our event schedule for Neuro Pride 2022! Kids Edition 
 🗓️ Sat, 13th Aug
✨10am Storytelling
✨ 10:30am Crafts
🗓️ Sun, 14th Aug
✨12pm Storytelling
✨ 1pm Disney Music Bingo 
✨ 2pm Show & Tell  
Find out more about our meetups
Keep an eye on our social media for all the details.