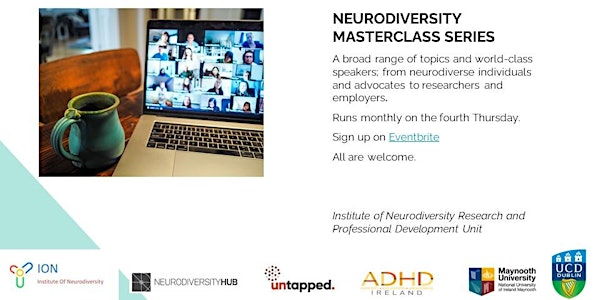 Multiple dates
Neurodiversity - Masterclass Series
Experience a broad range of topics and world-class speakers; from neurodiverse individuals and advocates to researchers and employers.
Date and time
Thu, 25 Feb 2021 09:00 - Thu, 22 Jun 2023 10:00 PST
About this event
The IoN RDPU presents a Masterclass series on Neurodiversity.
Having begun in February 2021, the series will be entering its third year in 2023. We aim to showcase a diverse range of speakers and subjects from across the globe and the Neurodiverse community, academia, and industry . Previous speakers include Judy Singer, Prof Simon Baron Cohen. All previous sessions can be watched back here.
All are welcome to join.
Sessions take place monthly, on the fourth Thursday of the month. Register here; a link to the zoom sessions will be sent to you the day before the webinar.
The next session is on 27th April with Victoria Sweetmore "Reflections of a late-diagnosed autistic mental health nurse." Victoria Sweetmore, RMN, is the Head of Mental Health and Learning Disability Nursing at the University of Derby. She worked clinically in a range of areas, specialising in urgent and acute care. Now in an academic role, her research interests include Mental Health Nursing within a historical context, and she is currently working on her PhD which aims to examine Mental Health Nursing's development as a profession since the closure of the asylums. Victoria has also written about being diagnosed as autistic as an adult and her reflections and experiences around this.
Upcoming Sessions :
25th May - Panel discussion, Supporting primary, secondary and tertiary education settings, Neurodiversity and Mental Health Conference Tie-in Event: Sue Fletcher Watson, Claire O'Neill, Elaine McGoldrick.
22nd June - Dr Alyssa Alcorn, 'The Learning About Neurodiversity at School (LEANS) programme: From participatory design to going public .'
About the organiser
We are a partnership of neurodivergent individuals and neuro-allies working and conducting research in the field of Neurodiversity. The Institute of Neurodiversity Research & Professional Development Unit collaborating partners are the Institute of Neurodiversity, University College Dublin, NUI Maynooth, ADHD Ireland and Neurodiversity Hub. Since 2020, the partnership has hosted two online international conferences, as well as a monthly online masterclass series.