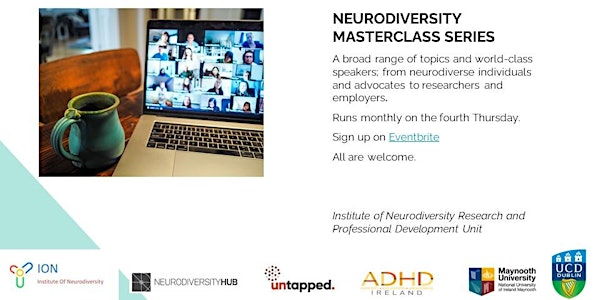 Multiple dates
Neurodiversity - Masterclass Series
Experience a broad range of topics and world-class speakers; from neurodiverse individuals and advocates to researchers and employers.
Date and time
Thu, 25 Feb 2021 09:00 - Thu, 23 Nov 2023 10:00 PST
About this event
The IoN RDPU presents a Masterclass series on Neurodiversity.
Having begun in February 2021, the series will be entering its third year in 2023. We aim to showcase a diverse range of speakers and subjects from across the globe and the Neurodiverse community, academia, and industry . Previous speakers include Judy Singer, Prof Simon Baron Cohen. All previous sessions can be watched back here.
All are welcome to join.
Sessions take place monthly, on the fourth Thursday of the month. Register here; a link to the zoom sessions will be sent to you the day before the webinar.
The next session is on Thursday 22nd June with Dr Alyssa Alcorn , 'The Learning About Neurodiversity at School (LEANS) programme: From participatory design to going public .'
Upcoming Sessions :
July - Summer Break
24th August - Elaine McGoldrick , "My Autism Learning Journey", Educator and Doctoral candidate
28th September - Charlotte Valeur, Institute of Neurodiversity, on Disclosure and Leadership
26th October - Prof Jacqui Rodgers, University of Newcastle Upon Tyne, Anxiety and ADHD
23rd November - Dr Lorna Hamilton, York University, "Designing for neurodiversity: Applying universal design and compassionate pedagogy in higher education."
About the organiser
We are a partnership of neurodivergent individuals and neuro-allies working and conducting research in the field of Neurodiversity. The Institute of Neurodiversity Research & Professional Development Unit collaborating partners are the Institute of Neurodiversity, University College Dublin, NUI Maynooth, ADHD Ireland and Neurodiversity Hub. Since 2020, the partnership has hosted two online international conferences, as well as a monthly online masterclass series.