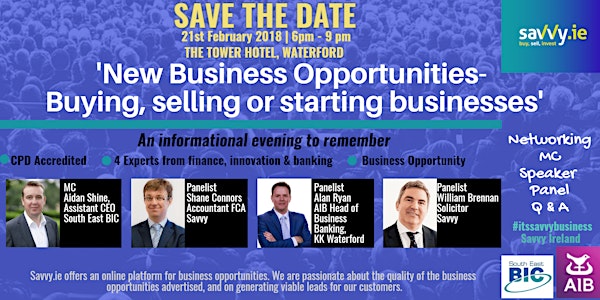 'New business opportunities – buying, selling or starting businesses'
When and where
Location
The Tower Hotel & Leisure Centre The Mall X91 VXE0 Waterford Ireland
Description
Savvy.ie is delighted to announce that the first of its series of events will be held in Waterford City 21st February 2018. Come join us in the Tower Hotel at 6pm – 9pm.
This promises to be a great informational evening for anyone considering buying, selling or starting a business in Ireland, or for professionals with clients. As a CPD accredited evening, this is one not to be missed! Join us at 6pm for registration, networking and refreshments. This evening will have an MC, panel speakers, and with Questions & Answers. We hope to see you here!
MC: AIDAN SHINE
Aidan brings 20 years' experience assisting and advising entrepreneurs, start-ups and SMEs in the South East. He works intensively with high potential start-ups and SMEs in all aspects of the business planning process – concept assessment, business modelling, financial projections, funding strategy and the development of a robust, investor-grade business plan. He also manages the HALO Business Angel Network (HBAN) in the South East – developing and fostering the growth of private equity and business angel activity in the region. He advises start-ups on developing compelling investor propositions including investment opportunity summaries, investor-grade business plans and investor pitches.
SPEAKER: ALAN RYAN
Alan Ryan ACA qualified as a Chartered Accountant in 2004 having trained in KPMG Financial Services. Alan has worked in AIB Capital Markets, Corporate Banking, Commercial Banking, Risk Management and Credit.Alan is currently the Head of Business Banking AIB Kilkenny / Waterford and will address the various funding options available for mergers and acquisitions. Alan will look at the typical leverage multiples for acquisitions in various sectors and what multiples can be financed. This will address the standard high-level lending parameters. He will also cover current market trends and emerging issues.
SPEAKER: SHANE CONNORS
Shane Connors FCA qualified as a Chartered Accountant in 2000, and has worked in senior management positions both in industry and practice for many years. In particular he spent over seven years working in the Wholesale and Retail Pharmaceutical sector, and as Head of Finance, was involved in the acquisition and management of in excess of 150 retail outlets and assets valued in excess of €250 million.His unique experience gained in corporate finance and especially in mergers and acquisitions makes him an expert in this area, and one of the most sought-after professionals in this field based in the South East. Shane is Managing Partner of an accountancy practice in Waterford, and established www.savvy.ie in 2013 to provide a platform for SME business owners to better understand and engage in the business transfer process.
SPEAKER: WILLIAM BRENNAN
William Brennan qualified as a solicitor in 2001 and worked in Binchys and subsequently Maples and Calder Solicitors before starting his own practice in 2007 where he is managing Partner. William currently employs 25 people in his practice which specialises in property and litigation and commercial work.William is also the founder and managing partner of Brennan Property Consultants which is an auctioneering and property management firm that employs 8 people. Willliam is also co-founder and partner in Savvy.ie. William is also a co-founder of innovative legal website Lawonline.ie. He has worked on some major property and commercial projects over the years to include the Dublin Aerospace purchase of the assets of SR Technics, now employing over 300 people and a number development and social housing projects across the country assisting Tuath Housing to purchase over 3000 properties around the country.